Them Crooked Vultures To Release Debut Album Nov. 17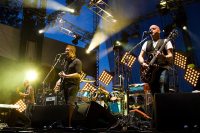 After much speculation, rock supergroup Them Crooked Vultures has announced Nov. 17 as the release date for its debut album.
Bandmates Dave Grohl (Foo Fighters, Nirvana), Josh Homme (Queens of the Stone Age) and Paul Jones (Led Zeppelin) will put the self-produced and self-titled release out on DGC/Interscope Records.
It is rumored that the first single from "Them Crooked Vultures" will be "New Fang," a song slated to hit radio on Monday (Oct. 26). The band's rep would not confirm or deny that report, however.
Them Crooked Vultures emerged as one of the year's most anticipated acts after a debut gig at Chicago's Metro in August. Though details on any recorded output have been scant until now, the band has been releasing small snippets of its studio sessions.
Earlier this month, Them Crooked Vultures played a small series of gigs in the U.S., including the opening night of Austin City Limits. NME has reported that the band will do a short in the U.K. Dec. 10-17, and January tour dates in Australia and New Zealand will be announced in the coming weeks.
Here is the tracklist for "Them Crooked Vultures":
"No One Loves Me & Neither Do I"
"Mind Eraser, No Chaser"
"New Fang"
"Dead End Friends"
"Elephants"
"Scumbag Blues"
"Bandoliers"
"Reptiles"
"Interlude with Ludes"
"Warsaw or the first Breath You Take After You Give Up"
"Caligulove"
"Gunman"
"Spinning in Daffodils"
by Monica Herrera, N.Y.



Источник: billboard.com




Читать еще в этой рубрике: