Impressions of the Netherlands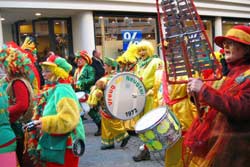 by David Wright



Two of my oldest and best friends, George and Truus, live in Geleen, which is a small town in the province of Limburg in the southern part of the NetherlandsI. The word 'Netherlands' means 'low lands' and, together with Belgium and Luxembourg, this part of Europe is sometimes referred to as 'the Low Countries' as they are literally low lying, ie most parts are not far above sea levelII. At this point, the Netherlands is rather long and thin, like a finger pointing downwards (south) into the heart of Europe, with Belgium to the west and Germany to the east. Both adjacent1 countries are near enough for my friends to go shopping there, selecting the best produce and commodities at the best prices from any one of the three countries. So they may go to Germany to fill up their car with petrol and to call at the hypermarketIII for groceries; and to Belgium for a meal or a favourite beer. Travel between all these countries is now very convenient since the signing of the SchengenIV agreement. In fact, on minor roads2, there are often no indications that one is passing from one country to another while major crossing points3 may have only the semi-derelict4 customs and border control buildings. As a sensible precaution, George and Truus carry their passports when crossing into neighbouring territory, but it is seldom required. Now that all three countries have adopted the Euro as a common currency, it is no longer necessary for George to keep different notes and coins in separate compartments of his purseV.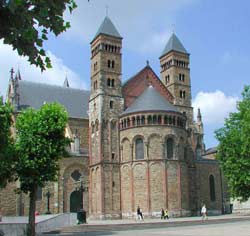 Maastricht

Limburg is the southern Dutch province. The north of Limburg is covered by woods and heathland5, the central part contains many small lakes lining the great River Meuse6, whilst in the south, the landscape is one of rolling hills. Perhaps it is the fact that Limburg is around 120 meters above sea level that makes it different from any other Dutch province. This is a very ancient part of the Netherlands, with a history stretching back long before the Roman occupation. One of its main cities, Maastricht, which is just a few kilometres from Geleen, was the crossing point for major European trade routes. Maastricht is almost certainly the oldest city of the NetherlandsVI – Roman sources mention an existing Celtic settlement there. The great St. Servaas Cathedral stands at the heart of this city of charming squares and winding medieval streets with their extensive cafe terraces and fashionable stores, housed in historic buildings, yet with a busy modern airport and many new industries. It is appropriate that the city should gain world-wide fame (some would say 'notoriety') when an important EU trade treatyVII was signed there in February 1992 – and named after it. In fact, the name of city is derived from its LatinVIII name Trajectum Ad Mosam (Meuse-crossing), referring to the bridge over the River Meuse built by the Romans during the reign of Augustus Caesar. Each part of Limburg has its own dialect, varying greatly from standard Dutch and from town to townIX. There are many fascinating places to visit, such as Roermond, another old city, historic places like the 'white' town of Thorn, Valkenburg which is popular with tourists and the Haelen nature reserve7. It is said that asparagus8 was a delicacy in Limburg in Roman times and today, it is one of the province's biggest exports.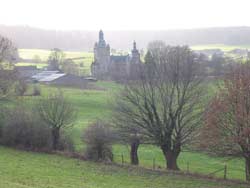 Southern Limburg

Geleen is not quite a 'company town', although much of its population, including George, were (and many still are) employed by one great firm, DSM, which manufactures chemicals and allied9 products. The name, DSM, comes from the firms origin as the Dutch State Mines. In 1939, Kerkrade in the north of Limburg was the biggest coal-mining city in EuropeX, but coal mining has since completely ceased in the Netherlands.

I first got to know George in his capacity as an engineer when the company I worked for was taken over10 by DSM and he visited us to provide technical advice and assistance. Not only were his visits of great value technically, but they were the beginning of a personal friendship which has endured for many years, long after we both retired. During these official visits (and my reciprocal11 trips to Geleen) we tried to ensure that we concluded the official discussions as expeditiously12 as possible so that there would be some time for socialising and seeing something of each other's country. This was not difficult as George was so knowledgeable and helpful that he was invariably able to sort out any technical problems in short order ensuring that we had some free time.

In very general terms, the northern parts of the Netherlands are predominantly Protestant while the south is Roman Catholic. However, the Dutch are famous (amongst many other things) for their tolerance of other races and religions – remember the founding fathers13 of the USA sought refuge in Holland when they were persecuted in England. As a great seafaring14 and world trading nation, many peoples from overseas have settled in the Netherlands, particularly those from their former empire in the Far East in what is now IndonesiaXI.

One delightful consequence of the popularity of the southern form of the Christian religion is their emphasis on the season of Lent which traditionally begins on Ash WednesdayXII – 40 days before Easter. Lent is a time for fastingXIII, so the previous few days are spent using up any luxury foods (particularly all remaining meat and animal products such as eggs and butter) and generally celebrating before the more serious next six weeks. An important part of the festivity is the VastenavendXIV, or Carnival, which is celebrated almost exclusively in the south of the Netherlands. The Carnival is a chance for letting off steam15 and each town endeavours to outdo its neighbours in a friendly spirit of rivalry.

To be concluded…


I Often called 'Holland', although, strictly speaking, Holland is only a northern part of the country. It is rather like calling Britain 'Scotland'!
II Much of the northern coastal areas were reclaimed from the sea by means of an stupendous system of dykes and drainage works, all much better designed and built than those at New Orleans, USA.
III This is one step larger than a supermarket and is a truly enormous place with almost everything you could wish for somewhere if you can only find it!
IV The name "Schengen" originates from a small town in Luxembourg. In June 1985, seven EU countries signed a treaty to end internal border checkpoints and controls. More countries have joined the treaty over the past years. At present, there are 15 Schengen countries, all in Europe.
V In UK English, 'purse' means a small container for money carried within a pocket or handbag; whereas in US English, it refers to what we call the handbag itself – another example of the 'two peoples being divided by a common language'!
VI Nijmegen was the first city with Roman city rights in what is now the Netherlands, but Maastricht was the first with medieval city rights, a system which evolved to the current system.
VII The Treaty is a series of amendments to existing Treaties and not a Treaty in its own right. As a result, the changes introduced by Maastricht can only really be made sense of by consolidating the text into the existing Treaties.
VIII Latin is the language used by the ancient Romans and propagated by them throughout much of Europe, even as far east as Romania, as is clear from the name.
IX The local name for Maastricht in the city dialect is Mestreech! It even has its own 'St Pietersberg' – a hill to the south of the town.
X Even as recently as 1960, about 70 % of Limburg's population was involved in mining, either directly or indirectly.
XI Contributing to a significant Moslem minority population.
XII The last day before Lent is called Shrove Tuesday in English (mardi gras in French and Spanish speaking places like New Orleans, USA, and Rio de Janeiro).
XIII That is to say, denying oneself certain unnecessary pleasures in order to focus attention on more spiritual matters.
XIV Vasteloavend in the local dialect.

1 adjacent – близлежайший
2 minor road – второстепенная дорога
3 crossing point – пропускной пункт
4 semi-derelict – полузаброшенный
5 heathland – вересковая пустошь
6 Meuse – р. Маас (Нидерланды)
7 nature reserve – природная охраняемая территория
8 asparagus – спаржа
9 allied – смежный
10 take over – вступать во владение
11 reciprocal – ответный
12 expeditiously – оперативно
13 founding fathers – (амер., ист.) «отцы-основатели»; группа американских политических деятелей, сыгравших важную роль в основании американского государства
14 seafaring – мореходный
15 let off steam – выпустить пар







Читать еще в этой рубрике:
Читать еще в этом номере: