Chinese Diary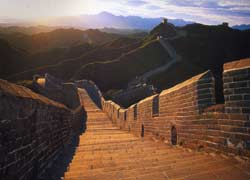 Day 1
"At last, my suitcases were packed, travel clothes ready, coffee pot primed1 and my wake-up time entered on the clock. I slept well – too well! I had not pressed the 'ALARM ON' button and I awoke an hour late. I got to Newark airport just in time for the first leg2 of my journey to San Francisco and then I boarded the plane for Shanghai, China."

Day 2
"Newark to San Francisco took six flight hours then from San Francisco to Shanghai another thirteen. At the airport, we were met by a tour representative3 and taken to a lovely five-star hotel with every amenity4."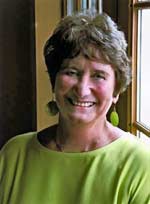 Ms Pauline Suder now lives in Pennsylvania, USA, but SE permanent author David Wright first met her in England when they both lived in the same village. Her family emigrated to America when she was a teenager. Now Ms P. Suder enjoys travelling, photography and keeping in touch with her many friends and family.

Day 3
"After breakfast, we took a bus to the Yu Yuan Garden — the Garden of Peace and Comfort, in the heart of Shanghai's Old Town by the Yangtze River. It covers an area of 20,000 square yardsI, with paths zigzagingII past pavilions, terraces and towers, over bridges and rockeries5 with strange, beautiful stones. After leaving the garden, we wandered6 through the Yu Yuan, or City God Temple, Bazaar. It was originally a Buddhist temple fair, but gradually became a busy market with a lotus pond (and another zigzag bridge) and the garden itself.

"Lunch was an assortment of Chinese dishes and an awful ice cream!"

"Later, at the Shanghai Museum there were some lovely items exhibited, including pottery7, porcelain8 and traditional Chinese paintings, calligraphy and cultural relics9. I was surprised by how few exhibits there were – US museum displays are overwhelming10 – many irreplaceable11 antique items were destroyed during the Cultural Revolution.

"All our guides were well-educated, interesting and informative about the history of the country and each place we visited, but we know that our guides are presenting the official line."

Day 4
"Breakfast was our main daily meal, comprising an amazing assortment of foods. Today we visited a carpet factory where we could buy guaranteed products. Things are plentiful and cheaper from private vendors, but our guides urge us to avoid them and buy only from "authorized" dealers so they get kick-backs12! There are beautiful rugs13 – my sister bought one for her living room and it was delivered to her home in the US three days later.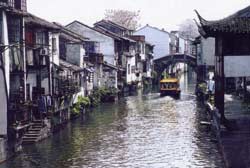 Suzhou

"On to a Senior14 Citizen's Centre. A new program provides cheap housing for families instead of shared facilities. These seniors were delighted to show their talents; singing and presenting a fashion show of home-made dresses and gowns. Never having been allowed to possess such finery15 in the past, they are happy now to engage in such "frivolous" behaviour.

"Next, we experienced 'cultural exchange' by having lunch in local homes. Our hostess, though, spoke no English and left the room after serving the food. After lunch, we drove to the Shanghai Bund16; the beautiful promenade beside the Huangpu River. There were street performers and vendors, alongside the Peace Palace and the Shanghai International Convention Centre."

Day 5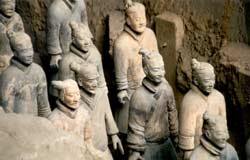 "An excursion to the old city of SuzhouIII was a highlight of the tour. Suzhou, smaller and prettier than Shanghai, is a city of silk, gardens and canals that inspired Marco Polo to name it the 'Venice of the Orient'IV. The Suzhou Grand Canal is crowded with laden17 barges. Second only to the Great Wall as a Chinese engineering feat, it is the longest man-made waterway in the world. Graceful old bridges cross the water and tile-roofed18, whitewashed houses sit close to shore. It is hard for those living in squalor19 alongside the water, but the older generation chooses not to move. There was a much house renovation going on, probably due to the coming 2008 Olympics about which all the Chinese seem very excited.

"Following a Western-style buffet20, we visited the silk factory where 85% of the world's silk is produced. Nowadays, mulberry21 leaves – the silk worms only food – are enriched to produce a higher quality silk thread. We watched the whole process from cocoon to finished product and learned how to determine the silk quality by feeling the warmth when it is held. Then we toured the ancient WangshiV Garden, but sadly it rained quite heavily."

Day 6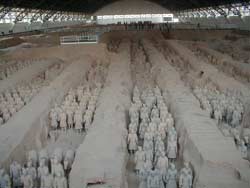 "Today we flew to XianVI, once the capital city of China at the start of the silk road – then one of the world's largest cities. Xian is a prettier, cleaner city than Shanghai and reminded me of any modern US city. The town is famous for its long city walls, with barracks at each gate housing guards overlooking courtyards22. If invaders made it into the courtyard, they would find themselves attacked from all sides.

"In China, ownership is state, collective or private. The Government owns all land; private owners build or buy their buildings and run their businesses, but when their contract ends, the Government can repossess the site and resell it.

"The Chinese people are eager to become a world power and to learn English. Young people practice their skills together, but prefer to interact with "real" English speaking people. Whenever we stopped to listen to our guide, local people would sidle up23 beside us – obviously entranced24! They call Americans "Beautiful People"VII.

"Roads are being built at an amazing pace by people who work for very low wagesVIII."

Day 7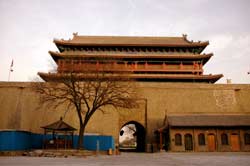 "We have a full day excursion today to see the Terra Cotta Soldiers – 6400 of them – discovered in 1974 by a farmer who was digging a well. He came up saying he had seen a ghost. After laughing at him, others went down and saw the life-sized25 figures buried over 2000 years earlier to guard the Emperor Qin in the afterlife. Warriors, horses and chariots were all sculpted from live models with individual faces. After inspection by archaeologists, a museum was opened to the public. Emperor Qin feared death and nobody dared mention the word in his presence. The site was located in accordance with Feng ShuiIX as the Chinese are concerned with harmony and proportion, balancing man, nature and spirit.

"When the Emperor was buried, many others were buried alive to keep the construction secrets. They believed that life underground was a continuation of life above, so he had his army of terra cotta soldiers to guard him in that afterlife.

"Then we visited the Muslim section of the city. Muslims are distinct from others because they wear white skull caps. They do not like photographs of themselves, contrary to the general population who love it and try to worm their way into the scene when they see a camera."

To be concluded...


III Suzhou means 'Plentiful Water'.
IV Many places with plentiful canals are likened to Venice, including St Petersburg, Birmingham in England, etc.
V Master of the Fishing Net
VI Pronounced She-an.
VII Being good business people, the Chinese know that flattery is good for profits!
VIII By American standards.
IX The art of positioning man-made structures in harmony with the supposed vital cosmic energy coursing through the earth

1 prime – наполнять
2 leg – этап, отрезок
3 tour representative – представитель туристической фирмы
4 amenity – все, что способствует хорошему настроению, отдыху и т. п.
5 rockery – сад с декоративными каменными горками
6 wander – прогуливаться
7 pottery – гончарные изделия
8 porcelain – фарфор
9 relic – реликвия (вещь, хранимая как память о прошлом и являющаяся предметом почитания)
10 overwhelming – несметный
11 irreplaceable – невозместимый
12 kick-back – (амер. разг.) возвращение денег
13 rug – ковер, коврик
14 senior – пожилой человек
15 finery – пышный наряд
16 bund – набережная (вдоль реки или моря; особ. в Японии и в Китае)
17 laden – груженый
18 tile-roofed – крытый черепицей
19 squalor – нищета; убогость
20 buffet – лёгкий обед
21 mulberry – шелковица, тутовое дерево
22 courtyard – внутренний двор
23 sidle up – подходить бочком, робко
24 entrance – приводить в восторг, очаровывать
25 life-sized – в натуральную величину (о портрете, статуе)







Читать еще в этой рубрике:
Читать еще в этом номере: