Switching the Channels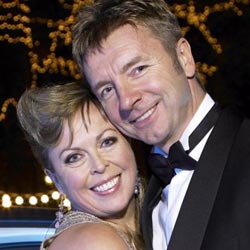 Dear Readers,

My season's greetings1 to you all, lovers of English and thus 'School English'!

As for me, my dream came true at last and I spent both Christmas and New Year's Day at my friend's house in England. Here, as usual, I enjoy tranquillity2 and relaxation. I read, watch TV and walk in the garden. Isn't that happiness?

Here I am going to share some with you of my impressions.

New Year's Day was notable for the annual concert by the Vienna Philharmonic from the Opera House with some wonderful music by Straus and other composers, elegant dances, gorgeous flowers and Daniel Barenboim's enthusiastic conducting3. I also enjoyed watching 'Dancing on Ice', a figure skating programme in which the well-known ice dance champions, Jayne Torvill and Chris Dean, led two competing teams of boys and girls.

There were a lot of seasonable programmes on TV that fill the screen during long winter holidays. They were for all tastes. There were old comedies from the 'Carry On' series (there are thirty altogether, but not all of them were shown, of course).

For example, we saw 'Carry On, Cleo' – a comedy set in Ancient Rome and Egypt in which Julius Caesar learns that Mark Antony and Cleopatra are plotting4 against him, so he dispatches5 a British slave to foil6 the conspiracy7. Then there was 'Carry On Cowboy' a spoof8 Western in which a sanitary inspector is sent to clean up Stodge9 City.



Надежда Никифоровна Рогожина

, проректор по международным программам, зав. кафедрой лингвистики и межъязыковой коммуникации Самарского муниципального университета Наяновой, кандидат педагогических наук, доцент.

Директор негосударственного учреждения дополнительного образования "World Class-Samara".

'Carry On Screaming' is a horror comedy. A mad scientist turns young women into shop-window mannequins. Many of the same actors appear in all the films and that makes for still more comic effect, especially when you watch them one after another. These films are so typically British that Iain Aitch included a special entry under the letter 'C' in his humorous dictionary on Britishness 'We're British, Innit10 (An Irreverent A-Z of all things British)'.

Of course, there were other old favourite films about Miss Marple, Poirot and Sherlock Holmes and I even managed to see one I had not seen before!

Classical works were not forgotten and were marked by Dickens's 'Christmas Carol' and 'Nicholas Nickleby'; Jane Austen's 'Emma'; and my favourite 'The Importance of Being Earnest', Oscar Wilde's brilliant, witty11 comedy starring Sir Michael Redgrave, Michael Denison and Dame Edith Evans.

Lovers of musicals could enjoy 'High School Musical', 'Oklahoma!' and 'Mary Poppins'. The kids were not forgotten and for them there were 'Black Beauty', 'The Three Worlds of Gulliver' and the famous animated cartoons 'Shrek-2' and 'Madagascar' to mention but a few. Family films suitable for both adults and children included 'Chronicles of Narnia: The Lion, the Witch and the Wardrobe', 'Pirates of the Caribbean: Dead Man's Chest' and films about 'Crocodile Dundee' on different channels.

I would like to finish up my survey with a film I have always wanted to see: 'A Man for All Seasons' – an Oscar-winning historical film with Paul Scofield in the leading role. It is based on R. Bolt's drama depicting the conflict between Sir Thomas More and Henry VIII on breaking with the Church of Rome. I was very much impressed by this film version and can only agree that:

"There is only one lesson we learn from history – that we learn nothing from it."

Nadezhda



1 season's greetings – "Поздравляем с праздником!" Открытки с такой надписью обычно посылаются к Рождеству. Само Рождество в этих открытках не упоминается, так как среди покупателей могут быть нехристиане и атеисты
2 tranquillity – спокойствие
3 conducting – (зд.) дирижирование
4 to plot – плести интриги
5 to dispatch – посылать
6 to foil – расстраивать
7 conspiracy – тайный сговор
8 spoof – пародия
9 stodge – липкая грязь
10 innit – (разг.) не так ли?
11 witty – остроумный







Читать еще в этой рубрике:
Читать еще в этом номере: