Happy Birthday, Mr. King!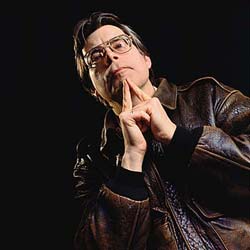 This month the Master of Horror, Stephen King, will celebrate his 60th birthday.

Stephen King was born on September 21, 1947 in Portland (USA). The Kings were the typical family until one night when Stephen's father, Donald, said he was stepping out1 for cigarettes and was never heard from again2. Ruth, Stephen's mother, raised King and his adopted3 older brother David by herself, sometimes under great financial strain4. They traveled throughout many states over several years, finally moving back to Durham, Maine, in 1958.

As a young boy, King was an avid reader of horror5 comics including Tales from the Crypt6, which provided7 the genesis8 for his love of horror. In school, he wrote stories based on movies he had seen. His first published story was In a Half-World of Terror – it appeared in 1965 in a horror fanzine9 issued by Mike Garrett of Birmingham, Alabama.



DO YOU KNOW THAT...
Stephen King has written over 50 books, all of them are #1 bestsellers.
Stephen King does not own a cell phone.
Stephen King will not sign photographs. He feels that is something that should be reserved for movie stars.
Stephen King is a fan of the Boston Red Sox1 and frequently attends home and away2 baseball games. In 1999, King wrote The Girl Who Loved Tom Gordon, which featured former Red Sox pitcher Tom Gordon as the protagonist's imaginary companion.
1 Boston Red Sox

– бейсбольная команда

2 home game

– домашняя игра (проходящая на родной для команды территории)

away game

– выездная игра (проходящая в другом городе)

From 1966 to 1971, King studied English at the University of Maine, where he wrote a column entitled "King's Garbage Truck" for the student newspaper, the Maine Campus.

In June 1970 King graduated from the University of Maine with a Bachelor of Arts in English and a certificate to teach at high school. He began work on The Dark Tower saga, but his chronic shortage10 of money meant that he was unable to continue his novel. So he took a job at a filling station11 pumping gas12 for the sum of $1.25 an hour.

On January 2, 1971, Stephen married Tabitha Spruce. In the fall of 1971 he took a teaching job at Hampden Academy in Hampden, Maine. He and his family lived in a trailer, and he wrote short stories, most for men's magazines, to help make ends meet13. King also developed a drinking problem, which would stay with him for over a decade.

King soon began a number of novels. One of his first ideas was of a teenage girl with psychic powers14. After completing a few pages, he decided it was not a worthy story and crumpled15 the pages up and tossed16 them into the trash. His wife later rescued the pages from the trash and encouraged her husband to finish it. In January 1973 Stephen King submitted17 Carrie18 to Doubleday19 and in March they bought the book. In May the publisher sold the paperback rights20 for the novel to New American Library for $ 400 000. King got half of that sum and quit his teaching job to pursue writing full time21.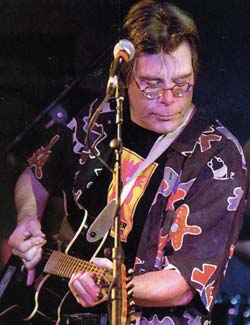 Stephen King belongs to a an all-writer rock band called Rock Bottom Remainders with other such writers as Amy Tan, Dave Barry, Scott Turow, Roy Blount Jr. and James McBride. Their motto is, according to Barry, "We play music as well as Metallica writes novels."

Since then King has had numerous short stories and novels published. He has been called the "Master of Horror". His books have been translated into 33 different languages, published in over 35 different countries. Many of King's novels and short stories have been made into major22 motion pictures or TV movies. Unlike some authors, King is untroubled23 by movies based on his works differing from the original work. He has contrasted his books and its film adaptations as "apples and oranges24; both delicious, but very different." King produced, wrote, and acted in his own miniseries25, called Kingdom Hospital. He also co-wrote the X-Files [Секретные материалы] season 5 episode Chinga with the creator of the series Chris Carter.

He is rumored to have stored26 in his house many of the film props27 from the numerous movies adapted from his original books, including the car used in Christine28 and a life-sized29 model of Barlow the Vampire from Salem's Lot30.

In June 1999, Stephen King was severely injured31 in an accident that left him in critical condition with injuries to his lung32, broken ribs33, a broken leg and a severely fractured34 hip35. After three weeks of operations, he was released from the Central Maine Medical Center in Lewiston, Maine. He continues to live in Bangor, Maine, with his wife and he writes out of his home: "I'm writing but I'm writing at a much slower pace than previously. I'm not a kid of 25 anymore and I'm not a young middle-aged man of 35 anymore … I have grandchildren, two new puppies to house-train36 and I have a lot of things to do besides writing and that in itself37 is a wonderful thing but writing is still a big, important part of my life and of everyday38."

compiled by Anne Shchetinina


1 to step out – выходить
2 (he) was never heard from again – о нем никто больше не слышал
3 adopted – приемный
4 under great financial strain – испытывая серьезные финансовые трудности
5 horror – ужасы (как жанр)
6 Tales from the Crypt – «Байки из склепа»
7 to provide – обусловливать
8 genesis – (зд.) зарождение
9 fanzine – специализированный (часто самиздатовский) журнал для поклонников отдельного жанра (артиста, музыканта, фильма и т.д.)
10 shortage – нехватка
11 filling station – заправочная станция
12 gas – (амер.) бензин
13 to make ends meet – сводить концы с концами
14 psychic powers – экстрасенсорные способности
15 to crumple up – комкать
16 to toss – швырять
17 to submit – представлять
18 Carrie – «Кэрри» (роман Кинга о девочке, наделенной сильными способностями к телекинезу)
19 Doubleday – издательская компания и сеть крупных книжных магазинов
20 paperback rights – права на издание в мягком переплете (издатель, обладающий правами на издание книги в твёрдом переплёте может продавать права на её издание в мягком переплете другим издателям)
21 full time – (зд.) в качестве основной профессии
22 major – (зд.) снятый крупной компаниией
23 untroubled – спокойный
24 apples and oranges – (разг.) абсолютно разные вещи
25 miniseries – телепрограмма, показываемая частями в течении недолгого периода
26 to store – хранить
27 props – реквизит
28 Christine – «Кристина» (экранизированный роман Кинга об автомобиле, в который вселился демон)
29 life-sized – в натуральную величину
30 Salem's Lot – «Салемские вампиры» или «Участь Салема» или «Жребий Салема» (экранизация романа Кинга «Жребий»)
31 injured – раненый
32 lung – легкое
33 rib – ребро
34 fractured – сломанный, раздробленный
35 hip – бедро
36 to house-train – приучать домашних животных испражняться на улице или в специально отведённом месте
37 in itself – само по себе
38 everyday – повседневность







Читать еще в этой рубрике:
Читать еще в этом номере: