Football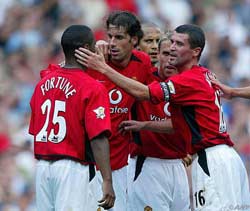 Jeremy Bohl answers SE's questions



School English asks: We know you are a Manchester United fan. Tell us, please, about your favourite team.

There are two major football teams in Manchester, Manchester City and Manchester United and the rivalry between the two teams in the city is huge. I chose from a very early age to follow1 Manchester United for the simple reason that I liked the colour red and I am very happy with the choice I made, as United is one of the most successful teams in the history of the English league whereas City has won nothing for the last thirty years (something which all United fans are very happy about!). The competition between these two clubs has always been very fierce and there are many areas of Manchester where mainly United or City supporters live. For example City supporters tend to live nearer to the centre and the East of the city and United supporters in the suburbs. Many people make their choice about which team to support according to where they live or who their family members support or they simply choose their favourite colour as I did!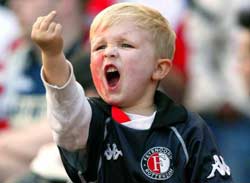 Manchester United was founded in 1878 but under the different name of Newton Heath and only changed its name to Manchester United alter the team went bankrupt2 United only began to be successful in the 1950s when Sir Matt Busby arrived and helped to reorganize the stadium (destroyed by a bomb during the WW II3) and the team. In 1967 United won the European cup for the first time with legendary players such as Best and Charlton. They didn't win the competition again until 1999 when they won the 'Treble'4 (The FA5 cup, League and Champions' league) something no other English team has ever done. Over the last decade United have been the most successful team in England, winning a huge number of trophies and playing beautiful football. The stadium, Old Trafford, is now the biggest in England, housing some 69 000 crazy fans every week and has been nicknamed The Theatre of Dreams' as a result of the extraordinary achievements of the team. I try to go to matches as often as I can, but demand is so great for tickets that I unfortunately cannot go every week but when I do have the opportunity to go to a match it is simply a joy to be a part of the atmosphere and watch one of the best teams in Europe.

School English asks: Please, tell us something about hooliganism6 in English football. Is this a widespread problem? What do hooligans look like?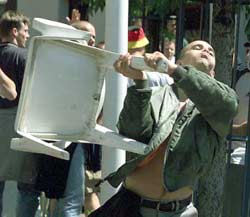 The kind of rivalry I described between Man. United and Man. City for a long time caused many problems in Manchester. Fans would often fight, especially when the two teams played together (this is called a 'derby' when two teams from the same city play each other). Against other teams such as Liverpool and Arsenal, fights and acts of hooliganism would often take place. During the last 15 years the English police have attempted, with some success, to reduce hooliganism and racism in domestic7 football. The advent of security cameras has helped to identify criminals, and fans have been encouraged to report others who are abusive8 or racist during matches. Today the terraces9 are much safer than before and fans are much better behaved in England. However, it is a different story for the national team. There are many who follow the England team around the world simply in order to brawl10. These types of hooligans are much more worrying and efforts are being made by the police to track them down11 and prevent them from travelling abroad. Hooligans who follow the national team are fanatical and travel together in groups. No matter where the national team are playing they are willing to travel and cause mayhem12. Heavy drinking is a part of their culture and when drunk they are obviously more abusive and more vicious13. This is a cause of great embarrassment to Englishmen and the Football Association. A minority of badly behaved nationalists have damaged the reputation of the majority of well-behaved fans.

Hooligans usually look and behave in a distinctive manner. Often they have little education, are aggressive and unpleasant. Many have tattoos, earrings and short hair or are skinheads and wear the England shirt14. For the average hooligan who has followed the England team to another country, the day begins with drink and ends in crime. The British police force is working on reducing this phenomenon through communication with foreign Police forces and implementing15 heavy penalties16 on those who are caught. Hopefully violence in British football will continue to decrease but nevertheless it is something that must be continually monitored17.


1 follow - (зд) быть чьим-л. поклонником, фанатом
2 go bankrupt - обанкротиться
3 WW II - (World War II) вторая мировая война
4 treble - (зд.) "тройка"
5 FA - (Football Association) Национальная ассоциация футболистов Англии
6 hooliganism - хулиганство (в основном, в футболе)
7 domestic - (зд.) отечественный
8 abusive - (зд.) склонный к оскорблению и/или физическому насилию
9 terrace - (спорт брит.)трибуна со "стоячими" местами на стадионе
10 brawl - затевать драку, скандал
11 track down - выследить (и поймать)
12 mayhem - драка
13 vicious - злой
14 England shirt - футболка сборкой Англии
15 implement - (зд.) применять
16 penalty - наказание
17 monitor - следить







Читать еще в этой рубрике:
Читать еще в этом номере: