HMS Victory



by David Wright (UK)



I hope you don't mind if I return to a subject that has already been mentioned at least twice before in 'School English'. It is a topic that is dear to the heart of all true Englishmen!

HMS1 VICTORY was the flagship2 of Admiral Lord Horatio Nelson who commanded the British Royal Naval fleet at one of their many famous victories at sea over the combined French and Spanish fleets. On this occasion it was the Battle of Trafalgar3, in 1805 – a victory made poignant by the death of Admiral Nelson himself. It was ironic that he made himself conspicuous by appearing on the bridge of his flagship wearing his full-dress uniform and his many campaign and bravery medals in order to inspire his sailors. However, sadly for us, he also attracted the attention of a remarkably accurate French sniper high up in the rigging of one of the enemy ships who aimed his musket with deadly effect. Knowing he was mortally wounded, Nelson ordered that his face and decorations should be covered while he was being carried to the Surgeon Beatty's improvised operating theatre on a lower deck so as not to discourage his men. Nelson had already lost one eye and one arm in previous battles. He had had a long-lasting relationship with Lady Emma Hamilton4 and almost his last words were a request that she should be sent a lock of his hair.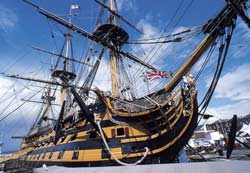 I was reminded of this famous battle during a visit to the once-great port of Liverpool. I went there with Dr Nadezhda Rogozhina, who was on holiday in England at the time – I expect she will refer to that trip on a later occasion. For now, I would just like to tell you a little more about that famous ship.

The present HMS VICTORY was the fifth ship of that name in the Royal Navy and was nearly given another name because the previous one had sunk with the loss of all hands. The ship with which we are concerned was the largest ever built for the navy at the time when it was launched on 7th May 1765. It was 69 metres long, had 100 guns and was manned by 850 men. After she5 was built in 1759, she was not immediately needed and was consequently laid up for six years, which fortunately gave her great oaken6 timbers time to season fully – a stroke of luck which contributed much to her seaworthiness.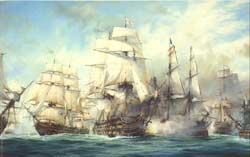 The Battle of Trafalgar

During this famous battle, both ship and Admiral were well experienced in warfare at sea7 and the crew drilled to a high state of proficiency, despite the fact that half of them were not volunteers, but had either been pressed into service or were criminals who had opted for this alternative to the horrors of prison or worse. For the latter, it was no easy way out, for discipline was harsh and frequent. After the battle the French Admiral Villeneuve graciously remarked on his astonishment that the British seamen had set to their regular work immediately after the engagement as if there had been no dreadful action, whereas his own men were either drunk or disabled and their officers tried in vain to get them to do anything.

Each of the largest guns8 required twelve men to load, run out, fire, clean and reload it, taking around one and a half minutes for the complete operation. There were severe punishments for gun-crews who could not maintain a satisfactory rate of firing!

The normal tactic in naval 19th century battles was for the opposing ships to sail on parallel courses so that their main armaments, ranging along their sides, could engage the enemy in massive 'broadsides' when all the guns on one side fired at once resulting in a massive blow on the victim9. One disadvantage of this was that it presented exactly the same opportunity to the enemy, provided his men were trained well enough to fire simultaneously. For better or worse, that was the convention and few captains would dare take the responsibility of doing otherwise. But Nelson was always something of a dare-devil who cared little for conventions10. Despite the misgivings of his officers, he decided to divide his ships into two columns and sail them head on into the French line at right angles, making a sort of 'T'-junction with them and chopping the French line into three parts. This reduced their ability to support one another as they had to fight three separate battles, and enabled the British ships to fire both broadsides at once – to port and starboard. The French targets were much reduced head on and a lot depended on the accuracy of the British gun crews, but their training paid off handsomely. In addition, the French main guns could not be swivelled round to deliver a counter-blow until their ships manoeuvred into a new position.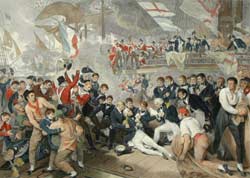 The death of Admiral Nelson

This audacious decision was devastatingly successful. Nelson's aim was to destroy the French/Spanish fleet and thereby forestall any invasion of Great Britain by Napoleon Bonaparte. Villeneuve understood this, unlike his Commander-in-Chief who concentrated almost entirely on his Grand Armйe. The French Admiral had already attempted to lure Nelson across the Atlantic Ocean, away from the warring parties on the Continent11 in order to give Napoleon a chance to ferry his troops across the English Channel. Villeneuve had also done his best to avoid any confrontation with his foe, but he was trapped near Cadiz12 by foul weather and false reports of the whereabouts of the British ships. He could escape no longer and he sailed out to meet his arch-enemy, Nelson.

The French and Spanish fleets were first sighted early in the morning of 21st October. Nelson retired to his cabin to prepare – himself with prayer and his men with an inspiring message. He ordered his Flag Lieutenant13, Pasco, to 'amuse' his fleet with a signal, flying flags to say, "Nelson confides that every man will do his duty" – the 'joke' was that anyone who didn't would get a severe flogging with a cat-'o-nine-tails14. However, Pasco respectfully suggested amending "Nelson confides" in the message to "England expects", as that could be coded with fewer flags. Nelson agreed and that is the version that has been learned by British schoolchildren ever since. Because the journey back to England took so long, Nelson's body was preserved in a cask of brandy for the trip.

At 12.40 pm, Victory fired her first port15 broadside into Villeneuve's flagship, Bucentaure, smashing her stern16, dismounting twenty guns and killing two hundred men, effectively putting the French ship out of action. Seven British ships17 followed in quick succession. At about 1 pm, Nelson was shot by that musketeer from the mizzentop18, 15 metres above the deck of the French ship, Redoubtable19. As Nelson lay dying, Captain Hardy congratulated him on the victory and reported that fourteen or fifteen ships had surrendered. "That is well," replied Nelson, "but I had bargained on twenty!" Every one of the thirty-three British ships returned from the battle.

France was broken as a maritime power (as was Spain) and the subsequent naval supremacy freed Britain from the threat of invasion and enabled Wellington to campaign on land in Spain and Portugal with secure supply lines, leading to another decisive victory at Waterloo in 1815 – but that is another story!


1 His or Her Majesty's Ship, depending on whether we have a King or a Queen at the time. The British Navy is called the Royal Navy because it is nominally loyal to and under the command of the Sovereign although, in fact, it is directed by the government of the day.
2 The ship in which the admiral (or senior flag officer) was sailing whilst commending the fleet. He was not (usually) the captain of that ship as the two jobs were different and each required the full-time attention of the respective officers.
3 The nearest land to the scene of the action was Cape Trafalgar, near present-day Gibraltar at the entrance to the Mediterranean Sea (coming from England!)
4 Her husband didn't seem to object and found consolation in affairs of his own.
5 British ships are always affectionately female, one of the few gender specific inanimate objects in the English language.
6 A rather obsolescent adjective which is appropriate in this historical context.
7 Previous victorious battles against Napoleon's fleet included Ushant and St Vincent, but Trafalgar was the decisive one that put an end to French sea power.
8 32-pounders which could fire a cannonball weighing about 14.5kg through over half a metre of oak plank more than one and a half kilometres away.
9 About 500 kg of hot metal.
10 For example, his scandalous affair with Lady Hamilton.
11 For the English, 'the Continent' means 'Europe'!
12 A port in southern Spain.
13 Signals officer. Pronounced 'Lef-ten-ant' in British English as distinct from 'Loo-ten-ant' in US English.
14 A rope whip which the convicted man had to make himself, to give him plenty of time to ponder his misdeeds. It had eight loose ends, hence its name. A captain could summarily order up to a dozen lashes, after which the instrument would be thrown overboard and salt rubbed into the miscreant's wounds to reduce the chance of infection and add to his discomfort.
15 Naval term for 'left', corresponding to 'starboard' for right. Occasionally, you may see 'larboard' for left in older works, but the scope for confusion is obvious so this term was rarely used
16 Another naval term. 'Stern' is the back; 'bow' for the front. 'Prow' is the bit that sticks out the front!
17 TEMERAIRE, NEPTUNE, LEVIATHON, CONQUEROR, BRITANNIA, AJAX and AGAMMEMNON. Note that some of the inspiring names are drawn from ancient Greek mythology, indicating that people were probably better educated in the Classics then than now. A painting of 'The Fighting Temeraire' by Turner is one of our most famous pictures.
18 The mizzen mast is the one at the 'aft' (back) of the ship, 'wearing' the 'mizzensail', and the mizzentop is, unsurprisingly, at the top of the mast!
19 It may seem strange that French ships should have English names and vice versa, but captured ships were often used by the other side.







Читать еще в этой рубрике:
Читать еще в этом номере: