Josh Hartnett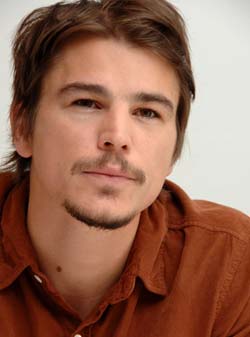 One of the crop of obscenely attractive young stars to pop up during the late 1990s, Josh Hartnett has the kind of strong-jawed, puppy-eyed looks that make him equally suited1 for both movie stardom and Tommy Hilfiger2 ads.

Born Joshua Daniel Hartnett in St. Paul, Minnesota, on July 21, 1978 as the oldest of four children, Josh Hartnett experienced a quiet and comfortable upbringing3. His birth mother moved back to her native San Francisco after divorcing his father Daniel Hartnett (a building manager), and Josh was raised mostly by his father and stepmother, Molly (an artist). He was active in sports as a child and did not entertain the thought4 of becoming a performer, until a football accident left him unable to participate on the athletic playing field.

Josh Hartnett began acting while in junior high, starring as Huckleberry Finn5 in an eighth grade production. A relative encouraged him to audition for the role and to his surprise, he won the part. Now in love with the stage, he went on to star in a slew of6 high-school plays.

His college years weren't so good. He attended Theater College for eight months before dropping out because he didn't agree with the way school was going. He moved to California and within two weeks, landed7 a job in the short-lived ABC8 sitcom9 Cracker [Доктор Фитц], where he played Michael Fitzgerald. After two episodes, the show was cancelled. The actor also did a number of TV commercials and plays, and in 1998 he got his screen break10 with the plum11 role of Jamie Lee Curtis' son in Halloween: H20 [Хэллоуин: 20 лет спустя]. Although the film received poor reviews, it did moderately12 well at the box office13 (this earned him an MTV Movie Award Nomination), and that same year Harnett's profile14 further increased when he starred in The Faculty (1998). One of a number of films to exploit15 the current trend16 in teen horror movies, it featured Hartnett fighting off alien17 teachers alongside the likes of fellow up-and-comers18 Elijah Wood and Shawn Hatosy. While the film didn't do as well as expected, thanks in part to the fact that the teen horror craze19 was beginning to lose steam20, it in no way21 interfered22 with the increasing number of opportunities available to the young actor.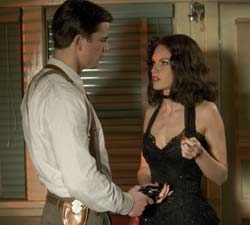 Hartnett could subsequently be seen in a number of diverse films; among his projects in 2000 alone, he played an Iago-like23 character in O, the teen re-telling of Othello; the son of Warren Beatty and Diane Keaton in the comedy-drama Town and Country; and the paramour24 of the eldest of the ill-fated25 Lisbon sisters in Sofia Coppola's adaptation of The Virgin Suicides [Девственницы-самоубийцы].

His pattern26 of starring in films with steadily-increasing budgets reached its apex27 in 2001 when Hartnett appeared in director Michael Bay's World War II action drama Pearl Harbor, playing Danny, a young solider who falls in love with his best friend's sweetheart amid the chaos of the titular28 conflict. Later that same year Hartnett would fight a whole new war in Ridley Scott's Oscar-winning war drama Black Hawk Down [Падение "Чёрного ястреба"], and shortly after swearing off29 sex for 40 Days and 40 Nights (2002) and hitting the street beat with Harrison Ford in the coolly-received buddy cop comedy Hollywood Homicide [Голливудские копы] (2003), the handsome heartthrob30 would make public his desire to shift his attentions away from blockbuster territory in order to focus his talents on smaller films of increased quality – even if it did mean a leaner paycheck. Though subsequent31 rumors of his potential involvement32 with the long-in-development Superman film would seem to betray33 this sentiment, lower-profile roles in such independent-minded efforts34 as Sin City and Mozart and the Whale [Без ума от любви] (2005) ultimately served to underscore35 the maturing actor's sincerity36. Of course Hartnett wasn't averse37 to appearing in the occasional mainstream effort, with roles in Wicker Park [Одержимость] (2004) and Lucky Number Sleven (2006) serving to occupy a curious cinematic middle ground between the indie and blockbuster mindsets38.

By the time Hartnett took a prominent39 role in Brian De Palma's 2006 true crime drama The Black Dahlia, it appeared as if the actor's willingness40 to challenge himself onscreen had finally begun to pay off. A dark look at the Hollywood underbelly41 based on author James Ellroy's best-selling novel, The Black Dahlia proceeded an introspective turn as an emerging sports writer who befriends a former boxing champ many had thought dead in Resurrecting the Champ (2007), and a highly challenging role as legendary jazz trumpeter Chet Baker in director Bruce Beresford's The Prince of Cool.


1 suited – подходящий
2 Tommy Hilfiger – американский бренд (марка) одежды
3 upbringing – воспитание
4 to entertain a thought – лелеять мысль
5 Huckleberry Finn – Гекльберри Финн (герой знаменитых романов Марка Твена «Приключения Тома Сойера» и «Приключения Гекльберри Финна»)
6 a slew of – (амер. разг.) множество
7 to land – (зд.) получать
8 ABC – /American Broadcasting Company/ Эй-Би-Си (одна из трех крупнейших телерадиовещательных компаний США)
9 sitcom – комедийный телесериал
10 break – (зд.) прорыв
11 plum – лакомый кусочек, нечто выгодное
12 moderately – сравнительно
13 box office – кассовый сбор
14 profile – (зд.) репутация
15 to exploit – эксплуатировать
16 trend – тенденция
17 alien – пришелец
18 up-and-comer – многообещающий, подающий надежды
19 craze – мания; (разг.) мода
20 to lose steam – идти на убыль
21 in no way – никоим образом
22 to interfere – повлиять на
23 Iago – Яго («плохой» из пьесы Шекспира «Отелло»)
24 paramour – любовник
25 ill-fated – несчастливый
26 pattern – (зд.) тенденция
27 apex – высшая точка
28 titular – заглавный (совпадающий с названием произведения)
29 to swear off – отказываться от, зарекаться
30 heartthrob – сердцеед
31 subsequent – последующий
32 involvement – участие
33 to betray – не оправдывать
34 effort – (зд.) работа
35 to underscore – подчеркивать
36 sincerity – искренность
37 averse – питающий неприязнь
38 mindset – образ мыслей
39 prominent – заметный
40 willingness – готовность
41 underbelly – (зд.) подноготная







Читать еще в этой рубрике:
Читать еще в этом номере: