An Australian Christmas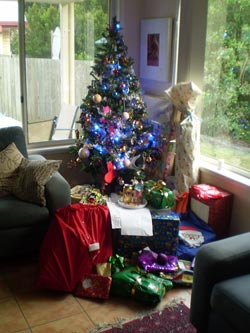 For people in the Northern Hemisphere, Christmas is all about cold mornings, large hot lunches, and snow. In Australia, Christmas is celebrated during the summer months1 with no snow and log fires2 for us! For Australians it's about sun, the beach, and often inappropriate large hot lunches, though our Christmas Cards and traditions usually depict3 those of colder climates. Australians have Christmas Trees, Father Christmas, Christmas Carols4 and gifts which are a familiar Christmas scenario.

For the majority of Australians, Christmas Down Under5 experiences6 all the seasonal variations of a Summer Down Under ... electrical storms7, floods, hailstorms8, cyclones and bushfires9. But 80% of the time they are blessed10 with blue skies and depending on the Australian location, temperatures ranging from 25 – 34 degrees centigrade11.

Australia is a multicultural country and with this, the traditions we have are often mingled12 and derived13 from a mixture of other countries. Australia, although huge in size, has a population of just over 20 million people. Our country is a harmonious mix of many ethnic groups. Our backgrounds are very varied, with people having connections with England, Scotland, Ireland, Northern Europe, Russia, Italy, Greece, Spain, France, Middle East, Vietnam, China, Japan, Thailand as well as North and South America. So you can imagine that each of these national groups brings the colour, customs and festive rituals of the Christmas celebrated in their respective14 homelands. Australians are able to appreciate culturally diverse Christmas celebrations.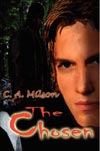 C.A. Milson is an Australian writer, the author of his debut horror novel The Chosen. His second novel, Bloodline Of Darkness will be available in mid 2009.

www.authorcamilson.wordpress.com authorcamilson@gmail.com


House decorations in Australia are not usually as elaborate15 as in the United States, although there are plenty of decorations and symbols, and even a few wreaths16. Because it is warm weather, there are many native plants in bloom. These are easily picked for decoration around the holiday season – orchids17, Christmas bells18, and the like are common.

Christmas is special to the majority of Australians for it is their Summer Holiday season and students especially are "wrapping up19" their school year. That means sitting for end of Semester tests or exams and waiting for their results, as well as getting ready for the Summer Holidays. For the majority of Australian students this means ... SUN ... SURF ... SHOPPING. For students it means an end to homework and school studies and the beginning of lots of time for family, relatives and mates.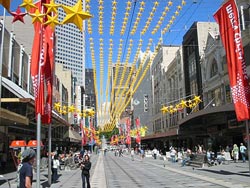 Christmas decorations in Bourke Street Mall, Melbourne

Traditional dinners have been replaced with family gatherings20 in backyards, picnics in parks, gardens and on the beach. For many, it is the occasion to be with friends and relatives, to share love and friendship and not to forget, the exchange of gifts in the traditional manner. For many, it is a time to enjoy and consume21 massive quantities of food.

So how do we REALLY celebrate Christmas? Christmas for children means presents, and lots of them! When I was a child, traditionally in the weeks leading up to Christmas, we would decorate the house with tinsel22, Christmas lights, and a large plastic Christmas tree would adorn23 our front entrance. Christmas was an exciting time of year. Next to Easter and my birthday, it was my favourite time of year! Every Christmas Eve, I would put a "Christmas pillowslip" (stocking) at the end of the bed and try to stay awake to wait anxiously24 for Santa Claus to arrive. Of course, I always fell asleep and never saw Santa arrive, but when I awoke in the morning, my pillowslip was filled with toys and goodies25 of all kinds. Each year was as exciting26 as the previous. I would throw off my bedsheets and open my presents from Santa while everyone else in the house slept.

In more recent years, I had the pleasure of spending Christmas with my sister in New Zealand. Although we had forgone27 the traditions we experienced as children, we still decorated the house with Christmas lights and various other decorations, and on Christmas morning we would sit around the Christmas tree and exchange presents we bought for each other. Of course, there was always one of us who would dress up like Santa and give out more gifts, which added to the magic that is otherwise28 "Christmas".

In my sister's house, the usual Christmas lunch consisted of roast pork, roast turkey, roast potatoes, pumpkin and other hot vegetables as well as salad, cold ham, cold chicken. The traditional Christmas meal may either be taken in the middle of the day which is the hottest part of the day or in the cooler evening hours. With some families opting for29 a celebration meal as dinner on Christmas Eve. In some households, Christmas Dinner may be a barbeque30 in the backyard or a picnic on a beach. The evening meal is leftovers31 from lunch.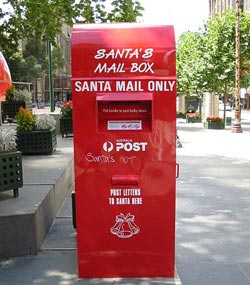 Currently everyone is beginning to get ready for the "silly season32". Everyone is busily planning Christmas break-up parties. Children are writing letters to Santa Claus. Decorations are being bought and set up. Shopping centres and malls are experiencing record breaking crowds. In homes, many of the traditional Christmas rituals are being followed. Many children are helping to decorate the family Christmas tree. Australians have yet to follow the American ritual of getting "real" Christmas trees ... though some do use gum tree33 branches. Children are learning Christmas Carols so that they may be sung at festive occasions such as public "Carols by Candlelight" and school concerts. Christmas stockings are being hung in homes ... though fireplaces are in short supply34. Cards galore35 are being written and posted. Everyone awaits ... the anticipation is high!

It must also be mentioned36 that Australians consider Christmas a time for remembering the true meaning of Christmas ... a time for remembering the birth of Jesus and the spiritual meaning of Christmas. For many, Christmas will begin with families attending a midnight mass. 70% of Australians are either Catholic, Anglican or Lutheran. After the midnight Mass37, a little sleep is attempted. For many, the children in various households wake up the family at dawn. Gifts are unwrapped and the joy of Christmas begins. For many with relatives and friends overseas38, it is a mad39 scramble40 to get an early phone call to relatives worldwide.

In order to celebrate an Australian Christmas in your house this year, consider displaying a map of Australia on the wall. Use an Australian animal, like a kangaroo or koala, as the gift for your guests. Create a beautiful tree with wooden decorations, tinsel or garland41, and the fairy42, angel or star on the top. Serve up a picnic instead of dinner, with champagne and pavlova, (a meringue dessert that is topped with whipped cream and fresh fruit). Or if you choose to serve traditional Christmas plum pudding, offer ice cream or cream on the side. The Christmas pudding during Australian gold rushes43 often contained a gold nugget44; the lucky person who found it was considered to be blessed with good luck for the coming year. These days the gold nugget is replaced with small favours45; consider adding these to your pudding.

This year will be my first Christmas in Russia, so although I will be celebrating the traditional Orthodox Christmas with my family, I will also be bringing a little bit of Australiana46 to Russia with celebrating Christmas "Aussie47" style, with lots of decorations, roast pork, roast chicken, roast vegetables, salad, and not to forget, lots of presents for my family!

Happy Holidays everyone!

C.A. Milson


1 summer months – в Южном полушарии летними месяцами принято считать декабрь, январь и февраль
2 log fire – дровяной камин
3 to depict – изображать
4 carol – (рождественский) гимн
5 Down Under – (разг.) Австралия или Новая Зеландия
6 to experience – испытывать, переживать
7 electrical storm – гроза
8 hailstorm – сильный град
9 bushfire – разрушительный лесной пожар (в Австралии)
10 blessed – благословенный
11 centigrade – по стоградусной шкале, по Цельсию
12 to mingle – смешиваться
13 to derive – происходить
14 respective – соответственный
15 elaborate – замысловатый
16 wreath – гирлянда
17 orchid – орхидея
18 Christmas bell – (зд.) рождественский колокольчик (австралийское растение)
19 to wrap up – (разг.) завершать
20 gathering – встреча
21 to consume – поглощать
22 tinsel – блёстки, мишура
23 to adorn – украшать
24 anxiously – с волнением
25 goody – конфета
26 exciting – захватывающий
27 to forgo – отказываться
28 otherwise – (зд.) иными словами
29 to opt for – предпочитать
30 barbeque – барбекю (пикник с традиционным блюдом из мяса, зажаренного на решётке)
31 leftover – остаток
32 silly season – (австрал. разг.) рождественские праздники
33 gum tree – эвкалипт
34 in short supply – дефицитный
35 galore – в изобилии
36 to mention – упоминать
37 Mass – литургия, месса
38 overseas – за морем
39 mad – сумасшедший
40 scramble – схватка
41 garland – гирлянда
42 fairy – фея
43 gold rush – золотая лихорадка
44 nugget – самородок
45 favour – (зд.) сувенир
46 Australiana – Австралиана (предметы, относящиеся к культуре и истории Австралии)
47 Aussie – (разг.) австралийский







Читать еще в этом номере: