Australian Recipe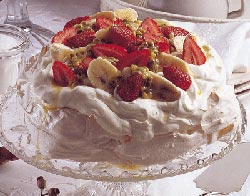 Pavlova
4 egg whites
1 cup superfine2 sugar (granulated)
1 tablespoon corn flour (cornstarch3)
half pint4 whipped cream5 (one cup)
strawberries or your choice of fruit such as passion fruit6, kiwi fruit...
Place egg whites in a clean glass bowl. Beat slowly until frothy
7
, then increase the speed and beat until stiff
8
. Gradually
9
add the sugar, beating well after each addition. (When all the sugar has been added, the mixture should be shiny, very stiff, and should stand in peaks.) Gently fold in
10
the corn flour with a metal spoon. Line a cookie sheet
11
with brown paper
12
and grease
13
it lightly. Pile the meringue
14
mixture on it. Slow-bake the mixture at 150°C to dry all the moisture
15
and create the meringue, approximately 45 minutes. This leaves the outside of the pav
16
a crisp
17
crunchy
18
shell, while the interior remains soft and moist. When cooked, turn off the oven and leave the door open to let the pav cool on the oven shelf – this helps to prevent the middle of the pav from collapsing
19
(although if it does collapse, generous
20
application of cream hides any mistakes).
When cold, peel off the paper and transfer to a serving platter
21
. Slice the strawberries in half and roll in icing sugar
22
, and refrigerate. Cover top of the pav with whipped cream about 1 hour before serving.
N.B. Turn the pav upside down before decorating with cream and fruit because the bottom is less crispy than the top after cooking and, unless you serve it immediately after decorating, the "top" absorbs23 moisture from the cream.
1 pavlova
2 superfine – очень мелкий
3 cornstarch – кукурузный крахмал
4 pint – пинта (0,568 л)
5 whipped cream – взбитые сливки
6 passion fruit – маракуйя
7 frothy – пенистый
8 stiff – вязкий, густой
9 gradually – последовательно
10 to fold in – медленно добавлять какой-л. ингредиент, помешивая ложкой
11 cookie sheet – противень
12 brown paper – грубая оберточная бумага
13 to grease – смазывать жиром
14 meringue – меренга
15 moisture – влага
16 Pav – сокр. от Pavlova
17 crisp – рассыпчатый
18 crunchy – хрустящий
19 to collapse – оседать
20 generous – обильный
21 platter – большое плоское блюдо
22 icing sugar – сахарная пудра
23 to absorb – впитывать
Читать еще в этой рубрике:
Читать еще в этом номере: