New Year – New Ways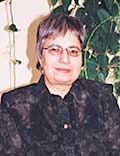 Надежда Никифоровна Рогожина

, проректор по международным программам, зав. кафедрой лингвистики и межъязыковой коммуникации Самарского муниципального университета Наяновой, кандидат педагогических наук, доцент.

Директор негосударственного учреждения дополнительного образования "World Class-Samara".

Dear Reader,
Every New Year many of us begin with the decision to start a new life, to turn a new page, so to say. Not everyone will manage it, though. I would like to share with you recommendations given by Mary Rau Foster, whose articles on positive thinking are familiar to you. Please, consider advice. Sometimes, to start something new in our lives, we need some challenge, a push! For me a key ring sent to me by my friend David Wright was such a push! It has a fob made of wood removed from HMS Victory – Nelson's flagship, during its restoration. This piece of wood is a piece of history! As we did not mention the Bicentenary of the Battle of Trafalgar celebrated last year in London, we will now!

Nadezhda


New Year – New Ways
by Mary Rau-Foster



The beginning of each year brings the opportunity for planned personal or professional change. The challenge to those who want to improve aspects of your life is to have clarity, stay the course1, celebrate each day that actions are taken in furtherance2 of your goals, and have the courage to make course corrections when our change methods are not working.

If we are clear in what we want, there is a greater likelihood of success. If we have the courage to put the goals in writing (which is one of the most important steps in changing) and the self-discipline to stay the course even when the excitement and enthusiasm wears off our success is more assured.

What is the secret to goal achievements? Why do some people succeed where others falter3? Why so some people seem so confident in their ability to get what they want? The secret is that there is no secret. The success factor depends not upon one's circumstances but upon what one is willing to do in the circumstances.

The people who succeed while facing small or large obstacles are those who become engaged and emotionally invested in their goals. They focus like a laser beam upon their desires and plan of actions. They are persistent, even when faced with obstacles, and they continue to maintain a "can-do attitude".

The biggest obstacle that each of us face is our own lack of self-discipline. We can find many other things to do rather than work on our self-improvement plan. When we lack the self-discipline it is often because we really don't want to achieve a particular goal, at least not enough to fight the inertia that we inevitably experience. When the excitement of setting goals has worn off and the true work begins, we may find our enthusiasm has waned4 also. It takes self-discipline to keep our enthusiastic mind-set5 turned on and turned up. A true, genuine, and heartfelt6 desire for a particular change in our lives is of paramount7 importance; otherwise a goal becomes merely a wish because of emotional, physical and mental laziness.

The question for the week for those who are contemplating or planning changes is, "Why do I want this change and how will it improve my life?"


1 stay the course – продержаться до конца;
2 furtherance – поддержка;
3 falter – спотыкаться;
4 wane – идти на убыль;
5 mind-set – образ мыслей;
6 heartfelt – искренний;
7 paramount – первостепенный.



Mary's book "Motivating Moments" makes a great gift for you, your family and your friends. This 211 page book, with illustrations, is a guaranteed morale booster, as well as thought provoking and inspirational. To learn more and to order online, visit:

www.motivatingmomentsbook.com
or
www.workplaceissues.com/motivatingmomentsbook.htm



Nelson's Trafalgar Victory Celebrated
Queen to inspect massive gathering of world's navies. Thousands of spectators and VIP guests are due to witness the start of the Trafalgar celebrations in the wake of a row over "political correctness" that threatened to overshadow the event.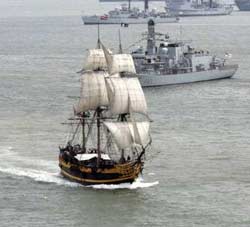 Queen will inspect a massive gathering of the world's navies, featuring 167 ships from the Royal Navy and 35 other nations which have anchored1 at Spithead in the Solent, off Portsmouth, for the International Fleet Review. As well as warships, the gathered vessels include tall ships2, lifeboats3, cruise liners and representatives from all sectors of the maritime industry.

The Queen, in her role as Lord High Admiral, will carry out the inspection accompanied by the Admiral of the Fleet, the Duke of Edinburgh, on board HMS4 Endurance.

The Duchess of Cornwall and the Prince of Wales will be among the royals who will witness the fleet review from onboard navy ships.

But the Son et Lumière5 mock6 sea battle taking place later in the day has attracted criticism from the 75-year-old great, great, great granddaughter of Admiral Nelson and Emma Hamilton. Anna Tribe said the decision not to make a precise re-enactment of Trafalgar, instead opting for a Napoleonic sea battle pitting7 a red navy against a blue navy, was "pretty stupid". Mrs Tribe, from Monmouthshire, added: "I am sure the French and Spanish are adult enough to appreciate we did win that battle. I am anti political correctness. Very much against it. It makes fools of us."

But Vice Admiral Jacques Mazars, who is in charge of five French vessels taking part, said: "It's not done to put the UK from one side and France and Spain from the other, but it is done to have a common memory of what has occurred 200 years ago. It is a festival of the sea."

The mock battle taking place off Southsea, Hants, will involve ships from five nations, including 17 tall ships, blazing broadsides8, gun smoke, and state of the art pyrotechnics. Nelson's flagship Victory will be depicted by the Grand Turk, a replica9 18th century frigate, which has appeared in television dramas Longitude and Hornblower.

A spokesman for Trafalgar 200 said as many as 150,000 spectators and hundreds of VIP guests are expected to attend. A Ј1.7 million security operation involving more than 400 navy personnel and scores of police officers has been launched to protect the public, the Royal Family and the navy during the event.


1 anchor – стать на якорь;
2 tall ship – парусник (учебное судно);
3 lifeboat – спасательная шлюпка;
4 HMS = His (Her) Majesty's Ship;
5 Son et Lumière – светозвукоспектакль;
6 mock – поддельный;
7 pit – противостоять;
8 broadside – бортовой залп;
9 replica – точная копия.







Читать еще в этой рубрике:
Читать еще в этом номере: