Christmas Adventures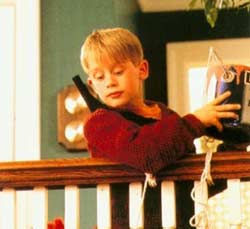 by Anna Shchetinina (Samara)



Once a year all of us forget about our everyday problems and become children again waiting for the miracle to come. It can happen only at Christmas and you should be very careful not to miss it because even the most common event is likely to change your life completely. Let's think of some likely Christmas situations and decide what you can do about them:

1. Imagine that your parents have left you Home Alone – nothing extraordinary, really – but Christmas is coming and your neighborhood is deserted1 (all the people have gone away to visit their friends and relatives), so this is a paradise for burglars2! What should you do? Don't worry – nice pranks3 like hot doorknobs4, slippery stairs and everything your imagination is capable of will help you not only get rid of5 burglars but bring your family back.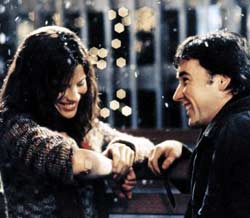 Kate Beckinsale as Sara Thomas and John Cusack as Jonathan Trager in Peter Chelsom's

Serendipity

(2001)

2. The situation may be quite romantic – you fell in love with a beautiful stranger but life separates you from each other and you can watch dull6 years passing by and nothing seems to change. Don't give up, use your Serendipity7, sooner or later it will help you meet your true love. Try going to the place you met for the first time – may be she/he is still there waiting for you.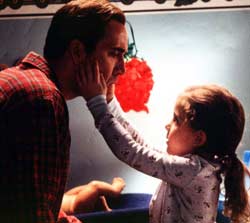 Nicolas Cage as Jack Campbell in Brett Ratner's

The Family Man

(2000)

3. If you are a successful businessman (of course, handsome and single), I bet, there are almost no people who could give you any Christmas presents. So don't ignore Santa Claus in the street even if you don't believe in miracles any longer. Joking aside, he may be real! And he can show you your life as it could be – you will find yourself a Family Man responsible for your wife and children. Let it last only for a short time nevertheless it may make you start your life from the very beginning.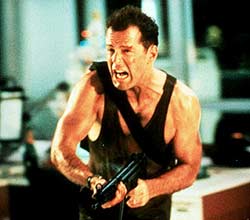 Bruce Willis as John McClane in John McTiernan

Die Hard

(1988)

4. But Christmas is not always a holiday, especially for those, whose job involves8 risk and danger. So if you are a policeman I don't think you will be lucky enough to enjoy your Christmas cake. It's more likely that you will have to save people, for instance, from terrorists who tried to spoil your party, having captured the building right on this very9 evening. It must be really unpleasant to shoot bandits instead of singing Christmas carols10 but don't give up – you are a Die Hard11.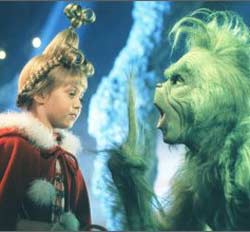 Taylor Momsen as Cindy Lou Who and Jim Carrey as the Grinch in Ron Howard's

How The Grinch Stole Christmas

(2000)

5. In fact all of the previous situations are not so awful12 as the following one – if a horrible, hairy green creature appears in the neighborhood it will try to steal Christmas and be sure – it will succeed! So you will have no Christmas tree, no presents, no cakes and if you are no a little girl with funny plaits13 I really don't know what you should do (may be it's worth seeing the movie again because I do not remember How The Grinch Stole Christmas and what happened in the end but I am sure everything was ok!!!)

These are only a few possible variants of what can happen to you at Christmas. You may choose any you like or suggest yours but do not forget that this holiday is not only colourful decorations and presents, but also an excellent opportunity to look at yourself, to assess your abilities and to realise that you are capable of anything!

Merry Christmas!


1 deserted – опустевший
2 burglar – взломщик
3 prank – проделка
4 doorknob – дверная ручка
5 get rid of – избавиться
6 dull – скучный
7 serendipity – интуиция
8 to involve – приводить к...
9 very – этот самый, именно тот
10 carol – гимн (обыкн. рождественский)
11 to die hard – сопротивляться до конца, дорого отдать свою жизнь (в русскоязычной версии «Крепкий орешек»)
12 awful – ужасный
13 plait – коса (волос)







Читать еще в этой рубрике:
Читать еще в этом номере: