Justin Timberlake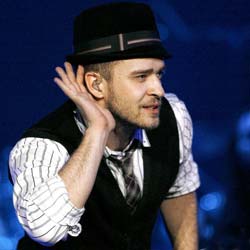 A quick search of his name on the Internet reveals a site where you can "kill" Justin Timberlake, via an interactive cartoon and a background soundtrack of "Bye Bye Bye." When the player haters1 are that brutal, you know that your career has hit the stratosphere. And so it has for the former Mickey Mouse Club member and kid country singer from Memphis. They call Memphis the Music City for a reason and Justin Timberlake is solid proof of why. If Michael Jackson is the King of Pop, then Timberlake is the current undisputed Crown Prince2.

Born on January 31, 1981, in Memphis, Tennessee, Justin Randall Timberlake's first 'paid gig' was at the age of 12 when he became a member of Disney TV's The New Mickey Mouse Club, (where he first met future girlfriend Britney Spears). He had made his TV debut a few years earlier on an '80s talent show, Star Search. He lost but instead of slinking away3 to a life of fry ups4 and chocolate e clairs5, he kept going. It was at the new Mickey Mouse Club show in Orlando, Florida that he met up with future *NSYNC bandmate6 just a JC Chasez and Christina Aguilera.

Timberlake and Chasez met up again in Nashville when working on separate solo projects but when they returned to Orlando they agreed to join Chris Kirkpatrick's new venture7 which would eventually become *NSYNC. Joey Fatone and Lance Bass would make up the rest of the five piece8.

Managed by former New Kids on the Block manager Johnny Wright, *NSYNC were eventually formed in 1995. Enlisting hit pop producers the team recorded a collection of teen-oriented pop/dance tracks. The band found success in Europe first on the strength of9 their singles, "I Want You Back" and "Tearin' Up My Heart". Their self titled debut album was released in 1998 selling millions of copies in Europe and the US.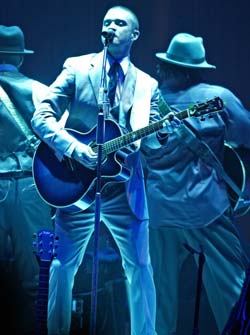 *NSYNC's second album, No Strings Attached, was released in 2000 and was even more commercially successful. The album went double platinum in only one week, and the singles "Bye Bye Bye" and "This I Promise You" became major hits. By now Timberlake had become the most prominent member of the group owing10 to his personal relationship with Britney Spears his elastic limbed11 dance moves. For the band's third album, Celebrity, released in 2001, Timberlake undertook co-writing and production duties on some tracks which would presage12 his solo material. Timberlake was ready to temporarily branch out13 on his own for his highly anticipated solo effort.

Timberlake's Justified album saw him hook up14 with prominent urban15 song writing and production heavyweights the Neptunes and Timbaland. He co-wrote all of the material on Justified in a marked attempt to distance himself from *N SYNC's adolescent fanbase and woo16 a more mature audience. "This is much better than anything I've done with *NSYNC," he told Q magazine in 2003. The album displayed a surprisingly well rounded17 appreciation of varying musical styles including R&B, hip hop, rock, blues and country. "It's not like I set out to create some new sound, I just wrote what I wanted to hear and drew inspiration from the past," he says.

The album's standout18 single, "Cry Me A River" was rumoured to be about his breakup19 with Britney Spears. The video featured a blonde Britney look-alike and the song suggested it was the teen pop queen who had been unfaith ful20. Timberlake seemed to cope with21 the breakup better than Britney and was soon dating backing dancers and a host of Hollywood starlets including Alyssa Milano and more recently, Cameron Diaz.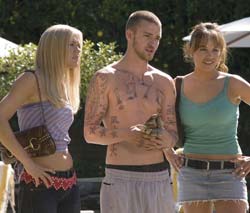 Alfa Dog (2006)

Then he stayed out of the studio for a few years in order to concentrate on acting opportunities.

Timberlake returned to the music world in 2006 with his Prince inspired FutureSex/ LoveSounds, which featured production work from Timbaland and Rick Rubin, and was followed by a brief club tour.

As an actor, he began small, with a cameo22 appearance in the Ben Stiller-directed Zoolander (2001). Small-screen appearances on The Osbournes and Saturday Night Live followed, but it wasn't until 2005 that the then 24-year-old Timberlake became a top-billed23 movie star. In that year's Edison, in which Timberlake co-starred with movie giants Kevin Spacey and Morgan Freeman, the former teen idol played a journalist determined to take on a league of crooked rollers24. The picture was released straight to DVD in late 2006 and earned tepid25 reviews. The singer upped26 his film appearances in 2006. He stuck to the crime thriller genre with Alpha Dog. The picture stars Emile Hirsch as a super-powerful drug dealer who kidnaps a youngster to collect a ransom27. Timberlake plays one of Hirsch's henchmen28. In 2007's Black Snake Moan, Timberlake plays the boyfriend of Christina Ricci's personage - a girl who becomes the hostage of an aging African-American blues musician (Samuel L. Jackson).

Timberlake also voices the rebellious prince Artie alongside in 2007's Shrek the Third.


1 player hater - (разг.) завистник (прежде всего успеху у противоположного пола)
2 crown prince - наследный принц
3 to slink away - незаметно исчезать;
4 fry-ups - поджаренные кусочки мяса; колбасы, картофеля
5 eclair - эклер (пирожное)
6 bandmate - товарищ по группе
7 venture - рискованное начинание
8 five piece - квинтет
9 on the strength of - вследствие
10 to owe to - быть обязанным
11 limbed - проворный
12 presage - предрекать
13 to branch out - расширить дело
14 to hook up -
15 urban - (муз.) термин, обозначающий R&B/soul или hip-hop soul 1980-1990-ых, одно из основных направлений американской коммерческой музыки
16 to woo - добиваться
17 well-rounded - всесторонний
18 standout - (амер. разг.) что-л. замечательное
19 breakup - разрыв
20 unfaithful - неверный, изменяющий (в любви, супружестве)
21 to cope with - справиться
22 cameo - эпизодическая роль
23 top-billed - (зд.) исполняющий главную роль
24 crooked roller - (разг.) коррумпированный полицейский
25 tepid - прохладный
26 to up - (разг.) повышать, увеличивать
27 ransom - выкуп
28 henchman - "правая рука", приспешник







Читать еще в этой рубрике:
Читать еще в этом номере: