Michael Phelps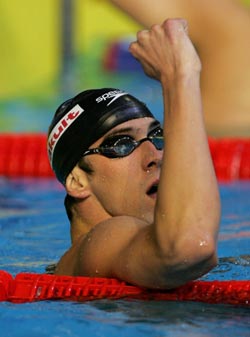 Michael Phelps is a swimming sensation who's made sports history. Since 2001, he has broken and reestablished1 several new world records in competitive2 swimming. His success at the 2004 Summer Olympics in Athens was amazing (six golds and two bronzes). Finally, the 23 year-old swimming star took the 2008 Summer Olympics in Beijing by storm by winning eight gold medals! That brings his grand total3 of gold Olympic medals to 14!

Michael Fred Phelps II was born on June 30, 1985, in Baltimore, Maryland. He began swimming at a very young age, following in the footsteps of his father Fred, an all-around4 athlete, and his two elder sisters, Hilary and Whitney, who showed early promise as swimmers.

As a kid, Michael was diagnosed with Attention Deficit Hyperactive Disorder5 (ADHD). At the age seven, he started swimming partly because he could release6 all that extra energy in the pool. Young Michael first mastered the backstroke because he was scared to put his face in the water.

In 1996, when he was 11, Michael Phelps met his long-time swimming coach, Bob Bowman, after he started training at the North Baltimore Aquatic Club at the Meadowbrook Aquatic and Fitness Center. Bowman, who knew right away that Phelps had what it took7 to be an exceptional8 athlete, took him under his wing and they began an intense training regime together, often working out up to 10 times per week.



Facts
He is 6'4" (1.93 m) tall and weighs 200 pounds (90.7 kg).
His nicknames are "MP" and "Gomer".
He needs to wolf down1 a lot of calories to have the energy for all his swimming. For breakfast, he often eats two egg-and-cheese sandwiches, a bowl of grits2, a large omelet and a tall stack3 of chocolate chip4 pancakes.
He comes from a family of swimmers. His sister, Hilary, swam for the University of Richmond and his sister, Whitney, swam at the 1996 Olympic Swimming Trials.
He's sponsored by Visa, Speedo, PowerBar, At&T Wireless, Omega and Kellogg's.
He has made an estimated $5 million per year in endorsements5, plus a $1 million bonus from swimsuit maker Speedo for winning eight gold medals at the 2008 Olympic Games.
He attends the University of Michigan, studying sports marketing and management.
1 to wolf down – (разг.) пожирать, съедать
2 grits – (амер.) гритс (блюдо из грубо размолотой кукурузы индейского происхождения, род каши, традиционное блюдо в южных штатах)
3 stack – стопка
4 chocolate chip – небольшой ломтик шоколада (используется в кулинарии)
5 endorsement – (зд.) реклама с участием «звёзд»

Michael Phelps made history by qualifying for the 2000 Summer Olympics in Sydney, Australia, when he was just 15-years-old. By qualifying for the 2000 Olympics, Michael Phelps became the youngest member of the US Olympic team since 1932. Phelps finished fifth in the 200 meter butterfly and shattered9 the 15-16 National Age Group record.

During the spring of 2001, five months after the Olympics, Michael Phelps became the youngest male swimmer in history to ever set a world record in the 200-meter butterfly. Not long after achieving that milestone10, he established a new record in the same event in Japan, during the 2001 World Championships.

Shortly after graduating from Towson High School in the spring of 2003, the 17-year-old set five world records, including the 200-meter individual medley11 at the World Championships in Barcelona, Spain. At the U.S. Summer Nationals12 in College Park, Maryland, Michael Phelps became the first male swimmer to win five national titles in a single meet13.

Michael Phelps became a mini media sensation going into the 2004 Athens Olympics, as he was heavily hyped14 to beat legendary swimmer Mark Spitz's record-setting seven gold-medal wins at the 1972 Munich Olympics.

He fell short of matching Mark Spitz's accomplishment15 when he took two bronze medals but he did manage to collect six gold medals at the Games, with a grand total of eight to his name, matching16 the previous record for most medals won by an individual in a single Olympics set17 by Aleksandr Dityatin in 1980.

Michael Phelps enrolled18 himself at the University of Michigan in Ann Arbor in the fall of 2005, following Bob Bowman, who accepted the position of head coach of the university's varsity19 swim team.

Three years later at the 2008 Summer Olympics in Beijing, Michael took his game to a whole new level as he completely dominated20. Michael made history by being the only Olympic athlete to ever win eight gold medals! Not only did he win eight golds, he won each race in world-record fashion. No doubt, Michael will go on as one of the greatest (if not best) Olympians ever!


1 to reestablish – (зд.) устанавливать снова
2 competitive – (зд.) спортивный
3 grand total – общий итог
4 all-around – разносторонний
5 Attention Deficit Hyperactive Disorder – синдром дефицита внимания и гиперактивности
6 to release – выпускать на волю
7 what it takes – (амер.) способности
8 exceptional – исключительный
9 to shatter – разбить вдребезги
10 milestone – веха
11 medley (swimming) – комбинированное плавание
12 Nationals – национальный чемпионат
13 meet – (амер.) спортивная встреча
14 to hype – превозносить, раздувать шумиху (в прессе)
15 accomplishment – достижение
16 to match – сравняться
17 set – серия (прыжков, заплывов и т.д.)
18 to enroll – зачислять
19 varsity – университетская (или школьная) спортивная команда
20 to dominate – господствовать







Читать еще в этой рубрике:
Читать еще в этом номере: