Avril Lavigne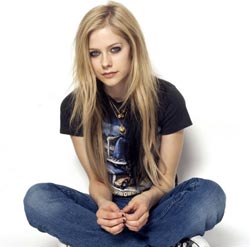 Canadian pop-rock singer and songwriter renowned as Avril Lavigne is actually born Avril Ramona Lavigne in Napanee, Ontario, Canada, on September 27, 1984, to Judy and John Lavigne, (both French-Canadians). During her childhood, Avril grew up singing country music and in a church choir and taught herself guitar since her 12-year-age. Later she explored1 her skill by joining many talent shows2. There she broke out of3 her hometown Napanee, Ontario, when she was 16 years old. Early in her life, Avril had started to write her own songs, which she wrote every time she got home and were about what happened to her that day. Besides, she had also started skateboarding ever since4 she was 14 years old.

First sharpen5 her music talent in the church choir and country music competitions, Avril finally won a competition in a radio contest that allowed her to sing with country legend Shania Twain. Over the next couple of years she tried to make the US recording industry to take notice6 on her music, but it wasn't until she was in New York at age 16 that she was finally signed7 to Arista records. Things began when an Arista employee was so impressed with her music, because of which he insisted that he returned with his CEO8 to hear Avril sing. Once signed to the major label9, she immediately dropped out of high school after 11th grade and moved to New York to begin work on her debut album. Unfortunately, it didn't work as the way she hoped. Her time in New York was short-lived10 as she failed to meet her approval11, and eventually moved to Los Angeles, California. From there, Avril eventually moved to the west coast to work with producer/songwriter Cliff Magness. The two worked on compositions for her debut record with Avril herself playing a key role in the songwriting process. The fruit of her partnership and hard work with Cliff firstly apparent in early 2002 when her debut single "Complicated" was released in North America.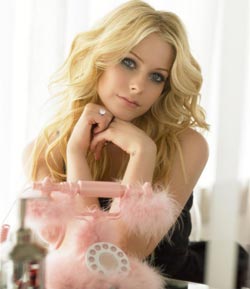 In succession, Avril's first album Let Go (2002) was released by Arista and immediately went to number one in Canada and high into the Billboard top 40 and was certified quadruple12 platinum13 less than six months later by the Recording Industry Association of America. Along with her debut album success, Avril was named Best New Artist at the 2002 MTV Video Music Awards. Moreover14, she was also nominated for eight Grammy Awards but has not won any to date. Anyway, this debut album had already spawned15 several hit singles in various parts of the world.

Apart from the critics, Avril herself tend to describe her first album as a pop album with "a couple of rock songs on it," and has indicated a desire to write more rock-oriented songs in the future. Thus, she started working on her next album and wrote most of the lyrics in it with the help of Canadian singer-songwriter Chantal Kreviazuk. In an attempt16 to make her second album "Under My Skin" a success, Avril worked together with three producers, namely Butch Walker, Raine Maida who is also Kreviazuk's husband, and Don Gilmore, who has produced Good Charlotte and Linkin Park. And so Under My Skin (2004) was released. Approvingly, this album was a success, went to #1 around the world, notably17 in the UK, USA, Canada and Australia.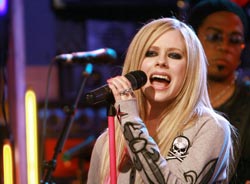 As for her personal life, Avril once reported (2003) to date18 the then band member Jessie Colburn, before then dating Deryck Whibley from the pop punk band Sum 41 for whom, in late 2004, the cute singer had a small pink heart-shaped tattoo featuring the letter 'D' applied to her right wrist. Have been together for two years and got engaged19 in Venice, Italy, in June 2005, the couple then tied the knot20 July 15th, 2006 in California with about 110 guests in attendance.

In April, 2007 she released third album titled The Best Damn Thing. The first single, 'Girlfriend' immediately entered Billboard 100 chart at #5 in its first week release. In this album, Avril employed a different vibe21. Taking off the baggy22 pants23, she wears a skirt in the video of 'Girlfriend.' The change can also be seen in the concept of the songs featured in the album. "Of course, I still have my boy-bashing24 songs, but they're very playful25. So the record is really fun and cool and different and honestly, I think it's my best record yet. I can say that with confidence," she said.


1 to explore – (зд.) опробовать
2 talent show – конкурс самодеятельноcти
3 to break out of – сбегать, вырываться
4 ever since – с тех пор как
5 to sharpen – оттачивать
6 to take notice – замечать
7 to sign – (зд.) подписывать контракт
8 CEO – директор
9 major label – (муз.) крупная звукозаписывающая компания
10 short-lived – скоротечный
11 approval – одобрение
12 quadruple – четырехкратный
13 platinum – (муз.) платиновый (имеющий миллионный тираж в США)
14 moreover – кроме того
15 to spawn – порождать
16 attempt – попытка
17 notably – в особенности
18 to date – (разг.) встречаться
19 to engage – (зд.) обручаться
20 to tie the knot – жениться
21 vibe – атмосфера, настроение
22 baggy – очень широкий, мешковатый
23 pants – (амер.) брюки, штаны
24 boy-bashing – (разг.) феминистский
25 playful – шутливый







Читать еще в этой рубрике:
Читать еще в этом номере: