Jessica Simpson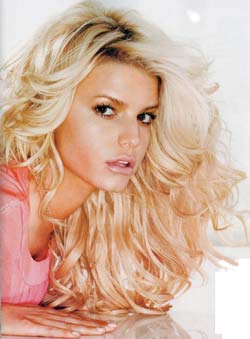 In the late '90s, the music industry was keen1 on fabricating bubblegum pop2 stars to appeal to a teen audience. There was Britney, Christina, and the Spice Girls, which were a trend3 all their own. Coming from the Christian music scene, Jessica Simpson was catapulted into the midst4 of this battle.

It's in Dallas, Texas, that Jessica Ann Simpson was born on July 10, 1980. Growing up in the small town of Richardson, a suburb of Dallas, her life was textbook5 happy. Her father Joe was a psychologist who also served as youth minister6 in the local Baptist church.

With this background, it was only normal for young Jessica to participate in church activities and so she sang in the choir. Such was her gift that at the age of 12, she auditioned7 for The Mickey Mouse Club8. When she reached the finals, she froze9, choking10 completely. Unfortunately, she didn't get the job; Britney Spears, Christina Aguilera and Justin Timberlake were luckier. Nevertheless, this experience was an important life lesson for Jessica.

She was discovered singing at a church camp by a head of a small contemporary Christian record label noticed her voice and offered to record an album. She recorded a number of gospel songs but just as they were angling for a release date, the label went bankrupt.

She dropped out11 in her senior year12 in order to tour and promote her demo album, which was funded13 by her grandmother, Joyce (thus the reason for the name of her 2004 holiday album, Rejoyce: The Christmas Album); she later earned her GED14. During this time, she toured with the Christian Youth Conference circuit15. She and her father (now her manager) sold copies of the album after her performances.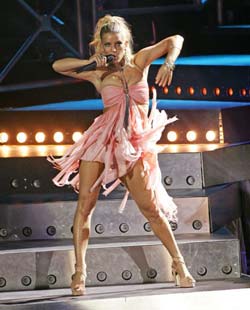 Word spread about Simpson and her record sold like hotcakes. More importantly, it wasn't only Christian music fans who got into16 her music; pop lovers everywhere were being charmed by her voice. News of Jessica's success reached important people in the industry. Tommy Mottola of Columbia Records/Sony Music was one of them and he signed her up17 with this record giant.

1999 saw the arrival of pop princesses Britney Spears and Christina Aguilera who each received multi-platinum18 success. Simpson's label had hoped the same with her. At the close19 of the year, Simpson released her first single "I Wanna Love You Forever" which became a big hit. Soon afterwards, her album Sweet Kisses was released to great sales, giving way to the singles "I Wanna Love You Forever" and "I Think I'm In Love With You." She then hit the road20 and showed audiences worldwide what the Jessica Simpson craze was all about. She joined boy band 98 Degrees for the tour and it didn't take long for her to fall in love with one of its members, Nick Lachey. The two soon began dating21.

A second studio effort, Irresistible, appeared in spring 2001. Despite the MTV coverage22 of the album's title track, Simpson's sophomore23 effort didn't fare24 as well as her first album.

Jessica and Nick finally got married in October 2002 and the celebrity marriage had rejoiced gossip columnists25 everywhere. As a result, MTV offered the couple a reality show based on their everyday life as a couple, much like The Osbournes26.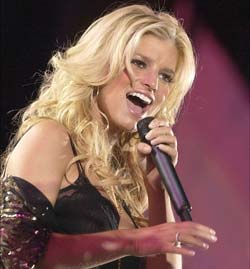 The deal was struck and August 2003 marked the debut of Newlyweds: Nick & Jessica. Although the show overshadowed Simpson's new album, it became an incredible hit and it was picked up for second and third seasons. Though she was successful before the series began, the show quickly became a pop culture phenomenon. Simpson epitomized27 the stereotypical dumb28 blonde, most notably when she asked Lachey whether the Chicken of the Sea tuna29 she was eating was in fact chicken or fish. Her ignorance helped turn the show into a huge hit, making the average rating for each episode about 1.4 million viewers while reaching a series peak of about 4 million viewers.

Simpson's third album, In This Skin, was released in August of 2003. It was eventually certified30 platinum, fueled31 largely by the couple's television success on Newlyweds. Simpson released ReJoyce: The Christmas Album in late 2004 which was later certified gold32.

On Thanksgiving weekend, in 2005, and after months of tabloid speculation33, Nick and Jessica announced that they are going their separate ways. No official reason has been given.

Jessica looked forward to going back in the studio to record her fourth album with her move to Epic Records from her previous label. A Public Affair arrived in summer 2006 and was influenced by everything from '80s new wave to contemporary country.

In the summer of 2005, Simpson made her first appearance in a motion picture as Daisy Duke in the movie-remake of The Dukes of Hazzard. Simpson's second film Employee of the Month was released last year. She is currently shooting34 her third film titled Blonde Ambition.


1 to be keen – увлекаться
2 bubblegum pop – разновидность поп-музыки (рассчитанной на подростков)
3 trend – направление, течение
4 midst – центр, середина
5 textbook – (зд.) хрестоматийный
6 youth minister – молодежный проповедник (доброволец или профессиональный священник)
7 to audition – проходить прослушивание
8 The Mickey Mouse Club – детское музыкальное телешоу, основанное Уолтом Диснеем в 50-е годы прошлого века
9 to freeze – (зд.) застывать
10 choking – задыхающийся
11 to drop out – бросать учёбу
12 senior year – выпускной класс
13 funded – финансированный
14 GED – /General Equivalency Diploma/ диплом о среднем образовании
15 circuit – (зд.) ряд выездных мероприятий
16 to get into – (зд.) заинтересоваться
17 to sign up with… – подписывать контракт
18 platinum – (муз.) платиновый (об альбоме или сингле, проданном в количестве 1 000 000 копий (США))
19 close – конец
20 to hit the road – отправиться в путь
21 to date – встречаться (в романтическом контексте)
22 coverage – освещение (по телевидению, в печати и т.д.)
23 sophomore – (зд.) второй
24 to fare – преуспевать
25 gossip columnist – ведущий рубрики светской хроники
26 The Osbournes – «Семейка Осборнов», телевизионное риэлити-шоу на MTV о семье рок-музыканта Оззи Осборна
27 to epitomize – олицетворять
28 dumb – тупой
29 Chicken of the Sea tuna – тунец «Чикин ов зе си» (товарный знак рыбных консервов)
30 certify – признавать, удостоверять
31 to fuel – подпитанный
32 gold – (муз.) золотой (об альбоме или сингле, проданном в количестве 500 000 копий (США))
33 tabloid speculation – обсуждение в бульварной прессе
34 to shoot – снимать (о фильме)







Читать еще в этой рубрике:
Читать еще в этом номере: