Leonardo DiCaprio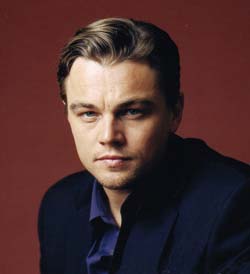 The Nineties saw the rise of some big, big stars. At different points Brad Pitt, Nicolas Cage, Jim Carrey, Will Smith and Adam Sandler stormed the Hollywood firmament1 with a string of massive hits. But none of them enjoyed the kind of fame achieved by Leonardo DiCaprio.
Beginning the decade as a promising newcomer, he ended it with "Titanic", the biggest smash2 in cinema history, and a worldwide army of teenage fans so crazed and committed3 to their idol they had critics recalling the manic days of Beatlemania.

He was born Leonardo Wilhelm DiCaprio on the 11th of November, 1974, in Hollywood, to Italian-American comic books distributor George DiCaprio and his German-American wife Irmalin, a legal secretary who'd go on to become Leonardo's manager. The boy's unusual name was chosen when he kicked his pregnant4 mother from the inside while she was viewing a Da Vinci at a museum in Italy, the Wilhelm coming from a German relative.

Since his parents divorce (the year after Leonardo's birth), Leo spent his time in Echo Park, a particularly dirty and poor, drug-infested5 area of Los Angeles where he and his stepbrother were raised by his mother and stepfather.

A bright6 kid, Leo attended the Seeds University Elementary School, an hour's drive from Echo Park. He'd then move on to the Los Angeles Centre for Enriched Studies, a school for gifted children, and then John Marshall High. Leo wasn't good in class, finding it hard to focus on academic studies.

It was never came easy for Leo when he began his early acting career as he had ever been rejected by an agent who perceived his name as sounded too foreign and suggested him to change his name into Lenny Williams. But he refused it and kept using the name, for which in January 1999 his lawyer even filed an application7 to allow him to copyright8 this "prestigious" name. After that refusal, Leo went on to cast for the role of Garry Buckman in the 1990s TV series, "Parenthood". Still in 1990, Leo appeared in American soap9 "Santa Barbara". During that period, Leo was also busy playing the role of a homeless boy in the sitcom10 "Growing Pains."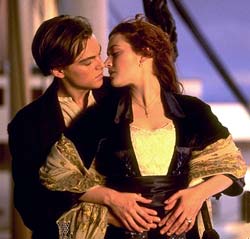 Titanic (1997)

Leonardo now made his Silver Screen debut. As is the case with so many modern stars, this was in a horror flick11 "Critters 3: You Are What They Eat" [Зубастики 3] released in 1991.

One year later, in 1992, his class was confirmed when he beat 400 hopefuls to the role of Toby in "This Boy's Life" with Ellen Barkin and Robert De Niro. His part in the movie had led the New York Film Critics and the National Society of Film Critics to name him runner-up12 for Best Supporting Actor.

The following year, Leo was billed13 to portray a Johnny Depp's mentally retarded kid brother in "What's Eating Gilbert Grape" and his acting was so convincing14 that some people thought he really was. As a reward he obtained15 an Oscar nomination for Best Actor in A Supporting Role and a Golden Globe nomination. This achievement brought good luck charm for Leo who next got the main role in the 1996 updated16 version of Shakespeare's play "Romeo and Juliet".

But it was the role of Kate Winslet's love interest Jack Dawson he portrayed in the 1997 romantic drama "Titanic" that really launched17 him into the galaxy of superstardom. The film was nominated for fourteen Academy Awards and won eleven, including the title of 1997's Best Picture. It, moreover, also gave Leo his 2nd Golden Globe nomination for Best Performance. This biggest hit in cinema history automatically made Leo a household name18 while earned him the title of 'teenage heart-throb19' and sex symbol as well.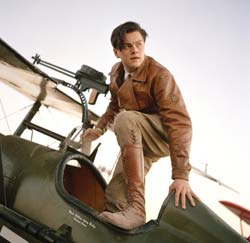 The Aviator (2004)

After the one-two punch20 of "Romeo" and "Titanic," DiCaprio continued playing in the 1998 remake of "The Man in the Iron Mask," showing another dashing21 performance with the dual22 role of French King Louis XIV and his double. Then in 2000 he teamed with hard-edged23 director Danny Boyle for "The Beach", which sadly provoked controversy because of clashes24 with the Thai authorities over the use of the island of Ko Phi Phi in 1999. The result was obvious, the film garnered25 bad press and did not score26 as well as expected at the box office.

Things changed drastically27 when in 2001 the actor was cast in Martin Scorsese's 19th Century drama "Gangs of New York." Set in the mid-1860s, this saw DiCaprio as Amsterdam Vallon, a man seeking revenge for the death of his father.

Then Leonardo regained his status as one of the rare young actors who could command both commercial and critical success through an appearance in Steven Spielberg's 2002 "Catch Me If You Can". Perfectly cast, he delivered his most charming and mature performance to date, proving himself again as both movie star and actor.

Two years later Leo re-teamed with Scorsese for the 2004 drama "The Aviator". His portrayal of the young Howard Hughes earned him some of the best reviews of his career as well as an Oscar nomination for Best Actor. With such marvelous28 track record29, Leonardo confidently added more and more film projects to his resume. "The Departed" (2006) and "Blood Diamond" (2006) both earned him the 2006 Golden Globes and Broadcast Film Critics Association nominations for Best Actor.


1 firmament – небесный свод
2 smash – хит
3 committed – преданный
4 pregnant – беременная
5 infested – наводнённый
6 bright – подающий надежды
7 to file an application – подавать прошение
8 copyright – авторское право
9 soap – «мыльная опера», телесериал
10 sitcom – комедия положений
11 flick – (разг.) кинофильм
12 runner-up – участник состязания, занявший второе место
13 to bill – объявить в афишах
14 convincing – убедительный
15 to obtain – получать
16 updated – модернизированный
17 to launch – запускать (спутник, ракету и т. п.)
18 household name – общеизвестное имя
19 heart-throb – сердцеед
20 one-two punch – двойной удар
21 dashing – (зд.) сильный
22 dual – двойной
23 hard-edged – жёсткий (по характеру)
24 clash – стычка
25 to garner – собирать
26 to score – иметь успех
27 drastically – радикально
28 marvelous – удивительный
29 track record – послужной список







Читать еще в этой рубрике:
Читать еще в этом номере: