You Know My Name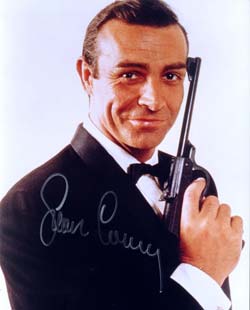 I think that an eccentric2 journalist Ian Fleming, if still alive, would be much surprised to learn about the enormous3 popularity of his book character. Almost half of the century immortal4 James Bond has been saving the world. The secret service agent with the "simplest, dullest5, plainest6-sounding name" as Fleming once said, now is a prominent7 character in video games, comic strips and comic books and has been subjected to many parodies.

This popularity can be explained by two facts. First of all, Ian Fleming should have thanked US President John F. Kennedy who mentioned From Russia With Love in a list of his favourite books. Secondly, it is due to cinematography that James Bond has become known worldwide.

From 1962 through 2007, six actors have portrayed James Bond in 21 movies:



Date of birth: February 1952
Location: Jamaica
Father: Ian Fleming
Hair colour: dark
Favourite food: scrambled eggs, pork
Habits: drinking, smoking, wearing short-sleeved shirts
Career: naval Commander
Status: agent of the British Intelligence Service1

Sir Sean Connery is considered to be the most popular James Bond of all times. He has appeared as 007 image in seven films, beginning with Dr. No in 1962 and concluding8 with Never Say Never Again in 1983. Ian Fleming, the creator of James Bond, had doubts about the casting, on the ground9 that the muscular, 6'2" Scotsman was too "unrefined"10 but the author later changed his mind after Dr. No premiered11.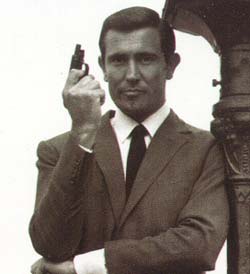 George Lazenby

In 1967, following the unsatisfying experience of filming You Only Live Twice, Connery quit the role having grown tired of the repetitive plots12 and lack of character development.

The producers hired George Lazenby to take over the role in On Her Majesty's Secret Service in 1969. However, the actor backed out of13 a seven-film contract and quit before the film was even released.

Lazenby's performance as James Bond is controversial. Most viewers appreciate him in action scenes but many have been dismissive14 toward his interpretation of Bond. His style is found cold-blooded and sometimes humourless.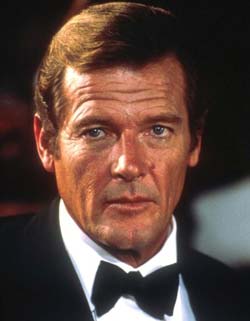 Sir Roger Moore

That's why Connery was enticed15 back for 1.2 million pounds (!) and he appeared again as the secret agent in 1971's Diamonds Are Forever. Later, in 1983 Connery signed to play Bond for the seventh and final time in the unofficial (* Never Say Never Again is a remake of the 1965 film Thunderball, and was released theatrically by Warner Bros.. The film is considered unofficial because it is not part of the Bond film franchise from EON Productions and United Artists.) film Never Say Never Again. Over 40 years after he first played the role, Connery is still widely regarded as the incarnation16 of James Bond. When asked if he'd ever escaped the identification, he replied, "Never. It's with me till I go in the box."17

Sir Roger Moore is the longest-serving James Bond actor, having spent twelve years in the role (from his debut in 1973, to his retirement from the role in 1985), and made seven official films. He is also the oldest actor to play Bond: he was 46 when he debuted, and 58 when he announced his retirement, as it was agreed by all involved18 that Moore was too old for the role by that point.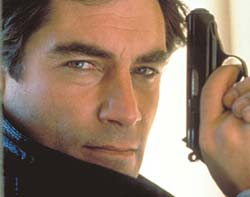 Timothy Dalton

In 1986 after Roger Moore's retirement from the role, the lean19, green-eyed Timothy Dalton (who is well-known in our country for starring in Jane Eyre and Scarlett) was the first choice to replace Moore but he was able to accept the role only after the filming of another movie, Brenda Starr, was completed.

Dalton's first outing as 007, The Living Daylights in 1987 was successful and grossed20 more than the previous two Bond films with Roger Moore, as well as contemporary box-office rivals such as Die Hard [Крепкий орешек] and Lethal Weapon. However, his second film Licence To Kill in 1989 did not perform well.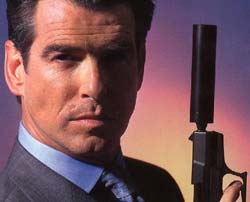 Pierce Brosnan

Pierce Brosnan was signed for a four-film deal and first appeared as James Bond in GoldenEye in 1995 to much critical praise. GoldenEye made over $26 million during its opening weekend in the USA, and during its release made around $350 million worldwide. Brosnan returned in 1997's Tomorrow Never Dies and 1999's The World Is Not Enough which had almost the same success. In 2002, Brosnan appeared for his fourth and final time as Bond in Die Another Day, which made $432 million during its release.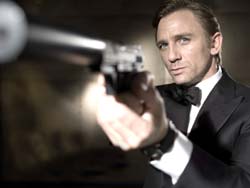 Daniel Craig

After the last Bond film producers felt that the audience had grown tired of 007, and it was decided to revive the secret agent and the style of the movie as well. Casino Royale, released in 2006, is the 21st film in James Bond series and is based on the first Fleming's story about young Bond's adventures. However, it is not a prequel – it is the establishing of a new time line and narrative framework21. Daniel Craig portrays brand-new22 Bond – cold, brutal, more muscular and kinetic23 than ever before. The film and Craig's performance in particular, quickly earned critical acclaim and Casino Royale is the highest grossing James Bond film to date, though some viewers find the changes in the plot and in Bond himself too radical.

Love it or hate it, Bond is back to stay, but nobody knows who will be the next person to drop the famous catch-phrase24, "My name is Bond. James Bond"…

— by Anna Shchetinina


1 Intelligence Service – секретная (разведывательная) служба
2 eccentric – эксцентричный, необычный
3 enormous – огромный
4 immortal – бессмертный
5 dull – (зд.) скучный
6 plain – незамысловатый
7 prominent – знаменитый
8 to conclude – завершить
9 on the ground – на основании
10 unrefined – грубый
11 to premiere – давать премьеру
12 plot – сюжет
13 to back out of – уклоняться от чего-л.
14 dismissive – презрительный
15 to entice – переманивать
16 incarnation – воплощение
17 to go in the box – (разг.) сыграть в ящик, умереть
18 involved – вовлеченный
19 lean – худощавый
20 to gross – получать доход
21 framework – структура
22 brand-new – совершенно новый
23 kinetic – подвижный
24 catch-phrase – известная фраза







Читать еще в этой рубрике:
Читать еще в этом номере: