Multi-Oscared Plasticine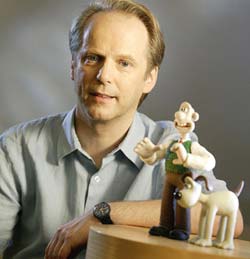 Frankly speaking, I never liked plasticine1 movies. That's why when one day my friend Kate suggested watching something "very funny" of that kind I wasn't very enthusiastic. But to my greatest surprise, Wallace the naive, green-knitted-tank-top-wearing2 inventor-cheeselover and his best pal, the intelligent but silent dog, Gromit won my love almost at once. The movie was called A Grand Day Out [Пикник на Луне] and was the first to tell the audience about the adventures of the clay modelled3 characters Wallace and Gromit. Then The Wrong Trousers [Неправильные штаны] (1993) and A Close Shave [Стрижка "под ноль"] (1995) were released; both films won spectators' affection together with Oscars.

Their creator, Nick Park, dreamed them up while he was a student at the National Film and Television School in the 1980s. So the first film A Grand Day Out began as his graduation film4 and was completed while working for his first employers, Aardman Animations. Aardman Animations which is famous for its claymation5/stopmotion6 animation productions was founded as a small back yard project by Peter Lord and David Sproxton in 1976. (The company name is taken from one of its early characters. Aardman was a cel-animated7 superhero. In Dutch aard means earth and man just means man. You probably know that clay comes out of the earth. Although, aardman is usually translated as goblin). Lord and Sproxton wanted to realize their dream of an animated motion picture. They provided animated sequences8 for the children's art series and produced a number of shorts9 for the British television company Channel 4. As the company grew bigger Lord and Sproxton began hiring more animators, one of them was Nick Park. Park's short, Creature Comforts (1989), was the first Aardman production to win an Oscar.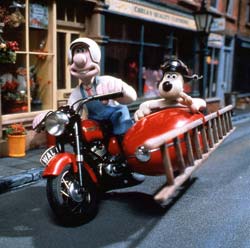 A Close Shave (1995)

Since then their rise has been steady but slow. Because the technique of stop-motion animation is so labour intensive10, typically producing only two seconds of film per day's work (just imagine this!), Wallace and Gromit films are few and far be tween11.

In 2000 Aardman Animations released the famous Chicken Run [Побег из курятника] - a humorous story about chickens trying to escape from their greedy12 owners. The film proved a success with both children and adults and be came an awarded worldwide box-office hit. The most interesting about it is that Chicken Run was the first feature film in Europe to use the Digital Intermediate13 process, digitally storing14 and manipulating every frame15 before recording back to film.

And do you know why all the chickens are wearing scarves? The reason is to hide the join16 between the head and the body. The scarves hide the 'seam17' which is present because the bodies of the chickens are articulated18 steel frames coated19 in silicon rubber20 while the heads are plasticine.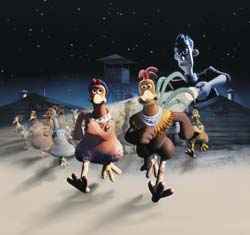 Chicken Run (2000)

In 2005 after ten years Wallace and Gromit returned on the silver screen21 in Wallace & Gromit: The Curse of the Were-Rabbit and caught the next Academy award for full-length animated film. The film has taken four years and $30 million to make, and features the voices of international stars Helena Bonham Carter and Ralph Fiennes. In spite of the fact that British films are rarely successful in the United States The Curse of the Were-Rabbit took the number one position in the US box office on the weekend of its release.

On 2nd April 2007 Aardman signed a three-year deal with Sony Pictures Entertainment. Aardman cofounder Peter Lord remarked: "We are all very excited by the potential and have a number of projects we are keen to bring to fruition22 with this new relationship." And I think we can expect more Wallace and Gromit adventures in the near future!


1 plasticine - пластилин
2 green-knitted-tank-top-wearing - одетый в зелёный вязаный жилет
3 clay modelled - вылепленный
4 graduation (film) - дипломный
5 claymation - перекладная мульти пликация (с фигурами из пластилина или глины)
6 stop-motion - мультипликационная покадровая киносъёмка
7 cel-animation - рисованная муль типликация
8 sequence - эпизод
9 short - короткометражный фильм
10 labour intensive - трудоемкий
11 few and far between - немногочисленные
12 greed - жадный
13 intermediate - промежуточный
14 digitally storing - (инф.) сохранение в цифровом (электронном) виде
15 frame - кадр
16 join - стык
17 seam - шов
18 articulated - сочленённый
19 coated - покрытый
20 silicon rubber - кремнийорганический [силиконовый] каучук
21 silver screen - киноэкран
22 to bring to fruition - осуществлять







Читать еще в этой рубрике:
Читать еще в этом номере: