Jason Statham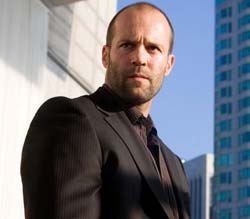 Broke into acting in such an unusual way, Jason Statham has really found his path in the film industry through his performance in action pictures and soared1 to be one of the most popular actors of the genre by the 21st century, thanks to his past professions which included that of a black market salesman.

Statham was born on September 12, 1972 in London, England and came into the acting profession in a most unconventional manner. His parents (a singer and a dressmaker turned dancer) both ran the business of selling counterfeit2 products. They moved around England finding a better way to make a living. They ran mock3 auctions, a major street con4. By the time he was nine, he was surrounded by an unsavoury5 group of characters, gangsters and con artists. He grew up following his parents' trail to master the art of "street theatre" (an euphemism6 for hustling7 tourists on London's Oxford Street) selling stolen jewellery and counterfeit perfume out of a briefcase.

Although Statham had the familial background to go immediately into entertainment, he excelled first on the high dive8. He was a member of the 1988 British Olympic team in Seoul, Korea, and remained on the national diving squad for ten years.

In the late '90s, a talent agent9 specializing in athletes landed Statham a gig in an ad campaign10 for the European clothing retailer11 French Connection. Afterwards became a model, he was introduced to British director Guy Ritchie who at that time was working on a film project with French Connection's owner as one of its biggest investors.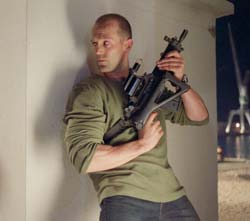 Transporter, 2002

Intrigued by Statham's past and impressed by his modelling work, Ritchie invited him to audition12 for a part13 in the film. The director challenged14 Statham to impersonate15 an illegal street vendor and convince him to purchase a piece of imitation gold jewellery. Statham was evidently so persuasive16 that Ritchie bought four sets. When the director attempted to return his worthless acquisition17 – pretending that the gold had turned to stainless18 steel – Statham was so graciously inflexible19 that Ritchie hired him.

This unorthodox20 audition resulted in Statham's big screen debut as Bacon, one of Lock, Stock, and Two Smoking Barrels' [Карты, деньги и два ствола] four primary21 characters engaged in a risky get-rich-quick scheme to repay22 a massive gambling debt23.

In the director's follow-up crime comedy, Snatch [Большой куш] (2000), Ritchie rehired Statham to play Turkish, a small-time24 gangster vainly trying to break into the world of underground boxing. As this amateur but respectable hoodlum25, Statham is attractive, urbane26, immaculate27, and smart enough to be bewildered28 by even his own laughable29 criminal ineptitude30. The role began as a small supporting part in Snatch's star-filled ensemble cast but expanded throughout shooting. Cast alongside Brad Pitt, Dennis Farina, and Benicio Del Toro, Jason delightfully landed his breakthrough as the flick31 turned out to be a worldwide box-office hit, scoring32 more than $80 million with about of the income came from U.S.

Consequently able to penetrate American movie scene (he made his American film debut as a British drug dealer in Turn It Up [Сделай погромче]), he then was included in a series of Hollywood film productions, such as John Carpenter's Ghosts of Mars and Jet Li's sci-fi action thriller, The One, which both came up in 2001, as well as the Paramount Classic's film The Mean Machine [Костолом]. The role was not a stretch33 for Statham, who was a natural born34 athlete and who studied boxing and martial arts.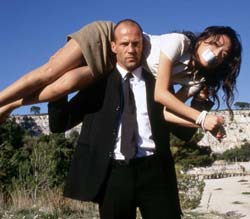 Transporter, 2002

Just as audiences were finally standing up to take notice of the amiable tough-guy, Stratham stepped into his own as the action lead of the explosive 2002 adrenaline ride35 The Transporter [Перевозчик]. Written specially for him by Luc Besson and directed by one of the world's foremost action directors Hong Cong, the film is about Frank Martin a man who lives a quiet life on the French Mediterranean, who is a transporter, someone who moves goods (human or otherwise) no questions asked. A sizable hit that would earn Stratham increasingly prominent roles in such high profile movies as The Italian Job [Ограбление по-итальянски] (2003), Collateral [Соучастник] (2004), and Cellular (2004), The Transporter established Stratham as a bankable36 international action star and was eventually followed by a 2005 sequel. A starring role in Ritchie's 2005 crime thriller Revolver found Stratham re-teaming with the director who launched his career with decidedly mixed results. The following year it was off to37 race the clock38 and rescue the girl as a reformed39 assassin looking to make good in the hyper-intense action movie Crank [Адреналин] followed by and London, In the Name of the King: A Dungeon Siege Tale and The Brazilian Job [Ограбление по-итальянски 2].


1 to soar – подниматься ввысь
2 counterfeit – поддельный
3 mock – фальшивый
4 con – афера, мошенничество
5 unsavoury – неприятный
6 euphemism – эвфемизм (cлово или выражение, заменяющее другое, неудобное для данной обстановки или грубое)
7 to hustle – заниматься нелегальной торговлей на улице
8 high dive – прыжки в воду с вышки
9 talent agent – агент по поиску талантов
10 ad campaign – рекламная кампания
11 retailer – дистрибьютор
12 to audition – прослушивать, участвовать в прослушивание
13 part – (театр, кино) роль
14 to challenge – (зд.) поставить задачу
15 to impersonate – играть роль
16 persuasive – убедительный
17 acquisition – приобретение
18 stainless – нержавеющий
19 inflexible – непреклонный
20 unorthodox – неортодоксальный, необщепринятый
21 primary – главный
22 to repay – погашать
23 gambling debt – карточный долг
24 small-time – (разг.) мелкий
25 hoodlum – громила
26 urbane – вежливый
27 immaculate – опрятный
28 to bewilder – приводить в замешательство
29 laughable – курьезный
30 ineptitude – непригодность
31 flick – (разг.) кинофильм
32 to score – (зд.) собрать
33 stretch – тяжелая работа
34 natural born – прирождённый
35 ride – (зд.) гонка
36 bankable – об актере, участвие кот. обеспечивают фильму успех
37 to be off to – начинаться
38 to race the clock – гнаться наперегонки со временем
39 reformed – исправившийся







Читать еще в этой рубрике:
Читать еще в этом номере: