Milla Yovovich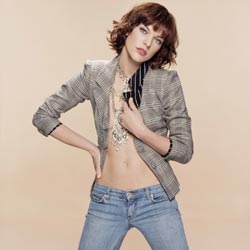 Having appeared on over 100 various magazine covers and in hit movies like The Fifth Element with Bruce Willis and Resident Evil, Milla Jovovich is now a successful superstar who flings1 herself everywhere from movies to fashion shows.
She is what the entertainment industry would call versatile2. Her extremely successful modeling career helped pave the way3 for her future projects in acting and in the music industry.

A model-turned-actress-turned-singer-turned-actress, Milla Jovovich can claim to have had one of the entertainment business' more varied careers. Multi-talented Milica Natasha Jovovich was born in Kiev, Ukraine, on December 17th, 1975, and her temperament mirrors her homeland's extreme climate – she can be light, sunny and open, or dark and closed off. She spent her early childhood between London – where her Yugoslav father Bogdanovitch (Bogich) Jovovich was studying to be a physician4 – and the USSR, where her mother (famous Soviet actress Galina Loginova) happened to live at the time. When Milla was 5, her family moved to Sacramento, California, where Milla experienced difficulty adapting to the American way of life. When the family first moved to America, they were virtually5 penniless6. So her parents had to work as housekeepers to Mission: Impossible director Brian De Palma, and they were staying in a little house off of the garage. Jovovich still seethes7 at the thought of her mother cleaning floors: "He could at least have given her a shot for a small part."

The professional life began with child modeling. When she was just 11 years old, photographer Richard Avedon had somewhat shockingly named her one of "Revlon's Most Unforgettable Women in the World". If Milla could fake8 the sexual confidence9 of a 20-year-old as a child, it was because her mother was pulling seductive10 faces11 from behind the photographer.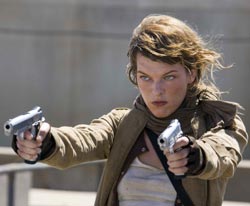 Resident Evil: Extinction (2007)

Milla's first cover was for the October 1987 edition of Italian magazine Lei. Since then Milla has been on countless more magazine covers and graced12 countless fashion show catwalks13. Milla's modeling pays extremely well and thus grants14 her the freedom to only do the movies she wants to or to take time off from modeling and acting to practice with her band Plastic Has Memory. "Modeling was never a priority," she said. In fact, she believes that most successful models have made it because they never wanted to be models in the first place. "With acting, you have to work and practice. With modeling it's the opposite. You shouldn't care. You should just act blasé15 and go to parties."

When she was 15, her father was sent to jail for eight years for money laundering in connection with Russian organized crime. An important chunk16 of her adolescent earnings went towards his legal fees17.

Milla's first taste of the silver screen18 came in Zalman King's soft-core19 Two Moon Junction (1988) as Sherilyn Fenn's little sister. Amidst some controversy (she was just 15 years old) Jovovich played Lilli in Return to the Blue Lagoon (1991), the sequel20 to Brooke Shields' 1980 classic The Blue Lagoon. She managed to scale the critical ladder21 with appearances in Kuffs [Семейка Каффс] (1992), Chaplin (1992) and Richard Linklater's cult classic tale of 1970's high school slackers22, Dazed and Confused [Под кайфом и в смятении] (1993).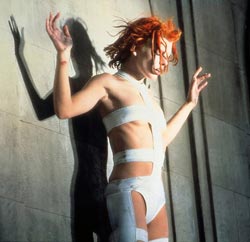 The Fifth Element (1997)

Then she temporarily took a break from acting. She returned with a bang23 in her breakout24 film, director Luc Besson's The Fifth Element (1997). Starring opposite Bruce Willis, Milla's portrayal of the "perfect being" Lee-Loo received high praise from fans and critics.

Milla married Besson, 17 years her senior, in December 1997 (it was her second marriage). They separated just over a year after the film was released, and before their second project, The Messenger: The Story of Joan of Arc [Жанна Д'Арк] (1999), opened25 to mixed reviews.

The following year, Jovovich appeared in Wim Wenders' futuristic The Million Dollar Hotel, as a mental patient26 in the titular27 establishment. Milla also filmed The Claim [Золотая пыль] in 2000. It is an epic love story set in California in the 1850s. The Milla plays the mysterious Katinka in Ben Stiller's comedy Zoolander [Образцовый самец] (2001).

The video game turned movie Resident Evil [Обитель зла] (2002) focuses on a military unit that fights a powerful super computer that is out of control. In order to save the world, they must combat hundreds of scientists who have mutated into flesh-eating zombies due to a laboratory accident. The film sparked28 two sequels (Resident Evil: Apocalypse (2004) and Resident Evil: Extinction (2007)) as a result of the box office success of the first movie. Though the franchise29 received mixed reviews from fans of the game itself as well as viewers not familiar with the game, it caught the public in a big way and turned Jovovich into an A-list30 action star, paving the way for the lead role in Ultraviolet (2006).

Now Yovovich is engaged31 to writer/director Paul W. S. Anderson. She is pregnant with his child, a girl, expected in November.


1 to fling – бросать, кидать
2 versatile – многогранный
3 to pave the way – прокладывать путь
4 physician – врач, медик
5 virtually – фактически
6 penniless – без гроша
7 to seethe – (зд.) негодовать
8 to fake – подделывать
9 confidence – самоуверенность
10 seductive – обольстительный
11 to pull faces – корчить рожи
12 to grace – украшать
13 catwalk – подиум
14 to grant – предоставлять
15 blasé – искушенный
16 chunk – ломоть
17 legal fee – адвокатский гонорар
18 silver screen – киноэкран
19 soft-core – эротический фильм
20 sequel – продолжение
21 to scale the critical ladder – (зд.) вырасти в глазах критиков
22 slacker – бездельник
23 with a bang – успешно, «на ура!»
24 breakout – повлекший взрыв популярности
25 to open – (зд.) делать премьерный показ
26 mental patient – психически больной
27 titular – заглавный
28 to spark – вдохновлять
29 franchise – (зд.) франшиза, (вид интеллектуальной собственности, распространенный в кино, литературе и т.д.); также обозначает кино-проекты с продолжением.
30 A-list – список самых знаменитых
31 engaged – помолвленный







Читать еще в этой рубрике:
Читать еще в этом номере: