Bruce Willis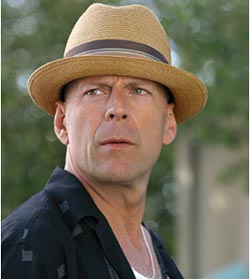 Bruce Willis has come a long way from his Broadway roots to become everyone's favorite underdog action hero. What makes everyone like Bruce is that no matter what he does, it always seems like he's having a good time doing it. He is living the American dream and he knows it, so why not live it up? He is the antithesis1 of any of the seemingly by-the-book2, serious Hollywood actors.

Bruce Willis was born Walter Bruce Willison on the 19th of March, 1955 in Idar-Oberstein, a German town near the border with Luxembourg. His dad, David, being a military man, was stationed there and his wife, Marlene, was from Kassel (they'd be divorced in 1971). On his discharge3 in 1957, David took his family back to Carney's Point, New Jersey, finding employment as a welder4 and a factory worker. Bruce, the oldest of four children, attended high school at Penn's Grove. A popular fellow, he was elected Student Council President and, strangely for a boy of such resolute blue-collar pride5, threw himself into drama classes. This was perhaps because, tormented by a stutter6, he discovered that he lost his impediment7 when onstage. He was also a talented wrestler – that scar on his shoulder now is actually the result of a serious sprain8.

Upon leaving school, Bruce (nicknamed Bruno) was expected to attend college but he instead took a job transporting work crews9 at a factory. This continued until a fellow driver was killed on the job, and Bruce quit, later becoming a security guard at a nuclear plant10 under construction11. Already keen on music he hung out12 in bars and played harmonica in R&B band Loose Goose. But he discovered soon that he missed acting and enrolled at Montclair State College, where he got enthusiastically back into drama classes, causing something of a stir13 with his performance in Cat On A Hot Tin Roof14. Eager to forge a career, he'd skip classes to attend auditions in New York City. He would for some months share his lowly abode15 with another aspiring actor, Linda Fiorentino.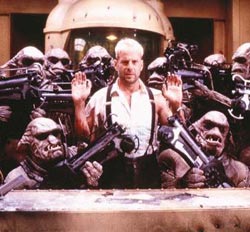 The Fifth Element (1997)

Still working to pay the bills, Bruce got himself a job tending a bar and sought parts in plays, shows and ads. He made his off-Broadway16 debut in 1977 and nabbed17 uncredited18 roles in full-length The First Deadly Sin (1980), Sidney Lumet's excellent Prince Of The City (1981) and Paul Newman-starring The Verdict (1982). Then it all began to happen. He was a hit onstage in Sam Shepard's Fool For Love (1985) and scored a sweet role as wife-beating gun-runner19 Tony Amato in the massive hit show Miami Vice [Полиция Майами: отдел нравов]. He also appeared in the TV ad for Levi 50120, along with the then-unknown Sharon Stone.

But this was just a taster. The real stardom arrived, though not in the way he expected. Flying off to LA, he auditioned for a part but was rejected. Being as he was in town, he checked out the other auditions taking place – one of which was for a new ABC show to be named Moonlighting [Детективное агентство Лунный Свет] (1985-1989). Willis found himself up against 3000 other hopefuls21 in the race to star alongside Cybill Shepherd as the smooth, wisecracking22 David Addison. And, being as that was him to a tee23, he won over the producer, who cast him despite protests from ABC. The show was an enormous success.

But Bruce, ever ambitious despite his easy-going persona, was looking beyond the world of TV. He used his breaks from Moonlighting to star in two movies (Blind Date (1987) and Sunset (1988)).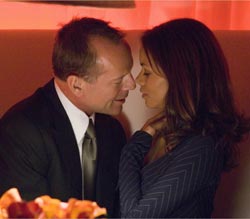 Perfect Stranger (2007)

1987 saw everything turn around24. For a start, Bruce met his future wife, Demi Moore, at the premiere of Stakeout [Слежка], a cop comedy starring her then-boyfriend Emilio Estevez. He also became an international singing star, crashing the charts with the hit LP, The Return Of Bruno.

Winning an Emmy and a Golden Globe for Moonlighting, it couldn't get much better for Bruce. Then it did. Directed by John McTiernan and filmed by Jan De Bont, Die Hard [Крепкий орешек] (1988) was a smash that took everyone by surprise. As Detective John McClane, thwarting25 Alan Rickman in his villainous attempt to hijack26 a skyscraper, Willis redefined27 the role of the action hero. A slightly shabby28, he was panicked, vulnerable29 and constantly on the edge of failure.

More hits followed with the sequel to Die Hard (Die Harder, 1990), but suddenly Willis's career became a rollercoaster30. Starring alongside Tom Hanks in Brian De Palma's adaptation of Tom Wolfe's Bonfire Of The Vanities [Костер тщеславия] (1990), he was involved in one of the most expensive and critically reviled31 disasters in film history. Quickly he redeemed32 himself with Tony Scott's superior action flick The Last Boy Scout, but then it got even worse with Hudson Hawk.

Willis' career seemed to be fast spiralling downwards until the intervention of Quentin Tarantino. Willis thought his part in Pulp Fiction [Криминальное чтиво] (1994) would be tiny but it grew to spread throughout the movie. As boxer Butch Coolidge, it was a superb act – Bruce was BACK.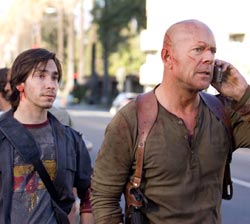 Live Free or Die Hard (2007)

Willis followed up his with an excellent performance in Nobody's Fool (1994), and went back to basics with Die Hard: With a Vengeance (1995), the third installment33 of the successful franchise. It was uphill from there, with hit movies Twelve Monkeys (1995), co-starring Brad Pitt, 1997's Fifth Element, opposite the perfect Milla Jovovich, and the blockbuster Armageddon (1998), which was more moneymaker than quality. The Jackal (1997) and Mercury Rising [Меркурий в опасности] (1998) were neither.

He seemed to have hit a plateau where he could do much as he liked, keeping his profile high with the occasional blockbuster and his involvement, along with Schwarzenegger and Stallone in the Planet Hollywood restaurant chain.

In 1999, Willis starred in the film adaptation of the novel by the same name, Breakfast of Champions, and was welcomed into the $20 million club with his role in The Sixth Sense. The record-breaking, critically acclaimed movie that featured Willis as child psychiatrist Dr. Malcolm Crowe can be considered one of his best roles to date. That same year, Willis co-starred with Michelle Pfeiffer in The Story of Us (1999), and starred as hit man34 Jimmy "The Tulip" in the gangster comedy The Whole Nine Yards (its sequel,The Whole Ten Yards, was released in 2004). Two military dramas followed, Hart's War (2002) and Tears of the Sun (2003) that both failed to really fire with movie audiences or critics alike.

However, Willis bounced back into the spotlight in the critically applauded Frank Miller's graphic novel turned movie Sin City (2005) and "Die Hard" fans rejoiced to see "John McClane" return to the big screen in the high tech Live Free or Die Hard (2007).

A tabloid favorite since his Moonlighting days, Willis made headlines in 2000 when his 13-year marriage to Demi Moore, came to an end. The former couple have three daughters together, Rumer Glenn, Scout LaRue and Tallulah Belle.


1 antithesis – антитеза (полная противоположность)
2 by-the-book – хрестоматийный
3 discharge – увольнение в запас
4 welder – сварщик
5 blue-collar pride – пролетарская гордость
6 stutter – заикание
7 impediment – физический недостаток (особ. речевой)
8 sprain – вывих сустава
9 work crew – бригада
10 nuclear plant – ядерная техника
11 under construction – в стадии строительства
12 to hang out – (разг.) «тусоваться»
13 stir – переполох
14 Cat On A Hot Tin Roof – «Кошка на раскалённой крыше», знаменитая пьеса Теннесси Уильямса
15 lowly abode – скромное жилище
16 off-Broadway – внебродвейский (речь, как правило, идёт о некоммерческих, экспериментальных постановках)
17 to nab – (зд.) заполучить, урвать
18 uncredited – не упомянутый в титрах
19 gun-runner – нелегальный торговец оружием
20 Levi 501 – одна из моделей джинсов
21 hopeful – соискатель
22 wisecracking – саркастический, язвительный
23 to a tee – тютелька в тютельку
24 to turn around – меняться к лучшему
25 to thwart – расстраивать (планы и т. п.)
26 to hijack – (зд.) захватывать с целью грабежа
27 to redefine – пересмотреть
28 shabby – потрепанный
29 vulnerable – уязвимый
30 rollercoaster – американские горки (аттракцион)
31 to revile – поносить, бранить
32 to redeem – исправлять (ошибки, оплошности)
33 installment – часть
34 hit man – наёмный убийца, киллер







Читать еще в этой рубрике:
Читать еще в этом номере: