Brad Pitt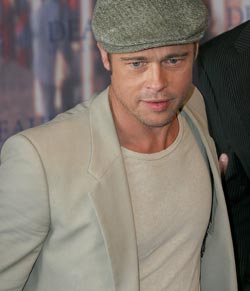 With looks that have inspired numerous People magazine covers, Internet fansites, and paparazzi blitzkriegs1, Brad Pitt can count himself as one of the luckiest men in the world. One of the most gifted actors of his generation, he makes $10 million per movie, enjoys international fame and recognition and has hordes of women on bended knee2 for him.

Pitt's ascension3 to his celluloid4 throne was a long and sometimes frustrating5 one, however. The son of a trucking company manager, Pitt was born December 18, 1963, in Shawnee, Oklahoma. Raised in Missouri as the oldest of three children, and brought up in a strict Baptist6 household, Pitt enrolled at the University of Missouri, following high school graduation, studying journalism with a focus7 in advertising. However, after discovering his love of acting, he dropped out of college and moved to Hollywood. Fearful of his parents' reaction, he told them he was going to Pasadena to study at the Art Center College of Design. Once in California, Pitt took acting classes and supported himself with a variety of odd jobs that included chauffeuring, waiting tables, and wearing a giant chicken suit for a local restaurant chain. His first break8 came when he landed9 a small recurring10 role on the primetime11 soap Dallas, and a part in a teenage-slasher movie12, Cutting Class [Прогуливая уроки] (1989), marked his inauspicious13 entrance into the world of feature films.

1991 marked the end of Pitt's obscurity14, as it was the year he made his appearance in Thelma & Louise. After becoming famous practically overnight, Pitt unfortunately chose to channel his newfound celebrity into Ralph Bakshi's disastrous15 animation/live action combo16 Cool World (1992). Following this misstep, Pitt took a starring role in director Tom Di Cillo's independent film Johnny Suede. The film failed to score with critics or at the box office.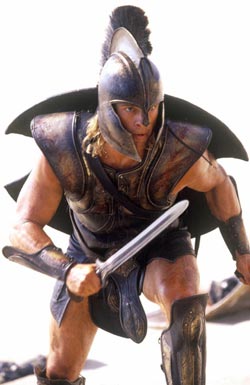 Troy (2004)

Pitt's next venture, Robert Redford's drama A River Runs Through It [Там, где течет река] (1992), gave the actor a much-needed chance to prove that he had talent in addition to physical appeal.

Following his performance in Redford's film, Pitt appeared in Kalifornia and True Romance [Настоящая любовь] (both 1993), two road movies featuring fallen women17 and violent sociopaths18. Pitt's next major role did not arrive until early 1994, when he was cast as the lead19 of the gorgeously photographed Legends of the Fall [Легенды осени]. As he did in A River Runs Through It, Pitt portrayed a free-spirited, strong-willed20 brother, but this time had greater opportunity to further develop his enigmatic character. Following the film's release, People magazine dubbed him the Sexiest Man Alive. Later that same year, Pitt exchanged his fugitive21 persona for the brooding22, gothic performance in the film adaptation of Interview With the Vampire. Starring opposite Tom Cruise, Pitt enjoyed the fame generated by the film's success.

Pitt next starred as a rookie23 detective investigating a series of gruesome24 crimes opposite Morgan Freeman in Se7en (1995). In 1997, Pitt received a Golden Globe award and an Oscar nomination for his portrayal of a mental patient in Terry Gilliam's 12 Monkeys; the same year, Pitt attempted an Austrian accent and put on a backpack to play mountaineer25 Heinrich Harrar in Seven Years in Tibet. The film met with mixed reviews and generated a fair amount of controversy26, thanks in part to the revelation that the real-life Harrar had in fact been a Nazi27. Furthermore, due to its pro-Tibetan stance28, the film also resulted in Pitt's permanent banishment from China. Following Tibet, Pitt traveled in a less inflammatory29 direction with Alan J. Pakula's The Devil's Own, in which he starred with fellow screen icon Harrison Ford. But the film was a relative critical and box-office failure. In 1998, Pitt tried his hand at romantic drama, portraying Death in Meet Joe Black [Знакомьтесь, Джо Блэк], the most expensive non-special effects film ever made.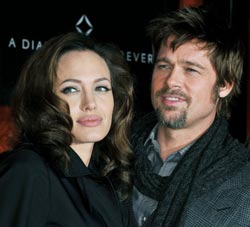 Pitt's penchant30 for quirk31 was prevalent with his cameo32 in the surreal comic fantasy Being John Malkovich (1999) and carried over33 into his role as Tyler Durden, the mysterious soap salesman in David Fincher's controversial Fight Club the same year. The odd characterizations didn't let up with his appearance as the audibly illegible boxer in Guy Ritchie's Snatch [Большой куш] (2000), eagerly anticipated follow-up to Lock, Stock and Two Smoking Barrels [Карты, деньги, два ствола].

In July of 2000, the man voted "Most Sexy Actor Alive" by virtually every entertainment publication crushed the hearts of millions of adoring34 female fans when he wed35 popular film and television actress Jennifer Aniston.

Pitt's next turn on the big screen found him re-teamed with Robert Redford in the espionage thriller Spy Game (2001). He was soon cast in Steven Soderbergh's remake of the Rat Pack classic Ocean's 11 [11 друзей Оушена] (2001), the tale of a group of criminals who plot36 to rob37 a string of casinos.

Following a decidedly busy 2001 that also included a lead role opposite Julia Roberts in the romantic crime-comedy The Mexican, Pitt was virtually absent from the big-screen over the next three years. In 2004 he spent the majority of his time working on the historical epic Troy. Directed by Wolfgang Peterson, the film employed a huge cast, crew38 and budget.

The media engulfed39 Pitt's next screen role with fervor, as it cast him opposite Angelina Jolie. While the comedic actioner40 Mr. and Mrs. Smith grossed41 well at the box office, the stars' off-camera relationship made some of 2005's biggest headlines. Before long, Pitt had split from his wife Jennifer Aniston and adopted Jolie's two children. The family expanded to five in 2006 – with the birth of the couple's first child – and six in 2007, with the adoption of a Vietnamese boy.

In addition to increasing his family in 2006, Pitt began expanding his career by acting as producer on a number of high profile films including Martin Scorsese's The Departed [Отступники], the Oscar 2006 winner for the Best Picture.

He also acted opposite Cate Blanchett in Alejandro Gonzalez Inarritu's drama Babel. Pitt also stayed busy as an actor, reteaming with many familiar on-screen pals for Ocean's Thirteen. At about the same time, Pitt teamed up with Ridley Scott to co-produce a period western, The Assassination of Jesse James by the Coward Robert Ford; Pitt also stars in the film, as James.

The year 2007 found Pitt involved, simultaneously, in a number of increasingly intelligent and distinguished projects. Most hotly anticipated, however, was the Pitt produced, Michael Winterbottom-directed Jolie-starrer A Mighty Heart – the tale of Mariane Pearl (wife of the ill-fated42 New York Times correspondent Daniel Pearl) and her diligent43 search for her husband in Pakistan – little realizing that he had been kidnapped and executed44.




1 blitzkrieg – молниеносное нападение
2 on bended knee – коленопреклонённый
3 ascension – восхождение
4 celluloid – (зд.) кинематографический
5 frustrating – разочаровывающий
6 Baptist – баптистский (баптизм – одно из направлений протестантского христианства)
7 with a focus – (зд.) специализируясь
8 break – прорыв, успех
9 to land – (зд.) получить
10 recurring – второстепенный
11 primetime – лучшее эфирное время
12 slasher movie – слэшер (поджанр фильмов ужасов с маньяком-убийцей, орудующим огромным режущим предметом)
13 inauspicious – неблагоприятный
14 obscurity – (зд.) безвестность
15 disastrous – (зд.) провалившийся (в прокате, и т.д.)
16 combo – комбинация
17 fallen woman – падшая женщина
18 sociopath – социопат (находящийся в разладе с обществом)
19 lead – главная роль
20 strong-willed – волевой
21 fugitive – бродячий
22 brooding – задумчивый
23 rookie – новичок
24 gruesome – ужасный
25 mountaineer – альпинист
26 controversy – полемика
27 Nazi – нацист
28 stance – позиция
29 inflammatory – подстрекательский
30 penchant – (франц.) склонность
31 quirk – причуда, выходка
32 cameo – эпизодическая роль
33 to carry over – переносить
34 adoring – поклоняющийся
35 to wed – жениться
36 to plot – планировать
37 to rob – грабить
38 crew – (зд.) съёмочная группа
39 to engulf – заглатывать
40 actioner – (зд.) боевик
41 to gross – получать доход
42 ill-fated – злосчастный
43 diligent – старательный
44 to execute – казнить







Читать еще в этой рубрике:
Читать еще в этом номере: