Gwyneth Paltrow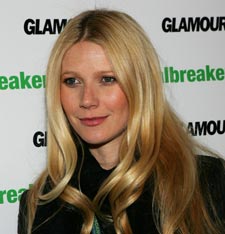 Aside from being a tall, blond beauty, Gwyneth Paltrow is known for her starring roles in Proof (2005), Running with Scissors (2006), Iron Man (2008), as well for being the recipient of a coveted1 Oscar for her role in 1998's Shakespeare in Love.

Gwyneth Kate Paltrow was born on September 28, 1972, in Los Angeles, California. Raised in the City of Angels by her parents, actress Blythe Danner and television producer and director Bruce Paltrow, it was no surprise that the blue-eyed blonde would pursue a career in acting. The Paltrows moved to Manhattan, New York, when Gwyneth Paltrow was 11 years old, and she spent much of her adolescence watching her Tony2 award-winning mother perform at theater festivals.

While her mother was performing in a summer stock theater3 in Berkshires, Massachusetts, Gwyneth Paltrow became more than an audience member; she began to participate, and even costarred with her mother in a couple of productions. After making her debut starring role in a production of The Adventures of Huckleberry Finn, she knew that acting was exactly what she was meant4 to do.

Gwyneth Paltrow returned to Los Angeles in order to attend the University of California in Santa Barbara as an art history major5. But the aspiring6 actress eventually traded in7 her textbooks and classroom lectures for the dream of becoming a full-time8 actress.

While her first film role was in the 1991 film Shout with John Travolta, her big break9 came along when she went out one night with her father and family friends Steven Spielberg and Kate Capshaw10. Big-league11 director Spielberg was in the process of casting for his 1991 film Hook and he offered Gwyneth Paltrow the role of Wendy, which she instantly accepted.

After her role in Hook, which also starred Robin Williams and Julia Roberts, she was cast as the lead in the 1992 mini-series Cruel Doubt, while her mother was offered a costarring role.

The budding12 actress' resume was soon filling up with roles in Malice [Злой умысел] (1992), Flesh and Bone [Плоть от плоти] (1993), Mrs. Parker and the Vicious Circle (1994), and Jefferson in Paris (1995).

Although audiences were beginning to take notice of Gwyneth Paltrow, the film that threw her into the spotlight13 was her role as Brad Pitt's girlfriend in the thriller Se7en, which is where the highly photogenic couple met and fell in love.

Gwyneth Paltrow's star was on the rise, but she decided to opt for14 roles in smaller, less-mainstream films rather than big-budget blockbusters. She costarred with David Schwimmer in 1996's The Pallbearer [Чужие похороны], and that same year took on the title role in the period15 piece Emma. Next up were Hard Eight [Роковая восьмёрка] (1996) and Great Expectations (1998), where she shone. Unfortunately, not many people caught her performances.

Rounding off16 a busy 1998, in which she starred in Sliding Doors [Осторожно, двери закрываются] and Great Expectations, Gwyneth costarred with Michael Douglas in A Perfect Murder. This was an odd17 match since Michael Douglas, who was cast as Gwyneth Paltrow's husband, is really a friend of her parents. Although most of her female counterparts18 were portraying younger characters in teen movies, Gwyneth Paltrow was being cast and choosing to play older, more mature characters.

Then came the role that turned Gwyneth Paltrow from actress to Academy Award winner. In 1998's Shakespeare in Love [Влюблённый Шекспир], she played an aspiring stage actress, who was forced to disguise herself as a male since the stage was no place for a woman in Elizabethan times.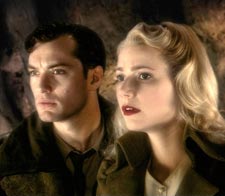 Sky Captain and the World of Tomorrow (2004)

She took home the 1999 Academy Award for Best Actress thanks to her impeccable19 British accent and her excellent portrayal as Shakespeare's cross-dressing20 love interest. This was the year she was also voted one of People Magazine's 50 Most Beautiful People.

Gwyneth Paltrow may have broken her engagement21 with Brad Pitt, but her career was still on the rise. After a brief hiatus22, Gwyneth Paltrow returned to the big screen in top form in the beautifully shot The Talented Mr. Ripley (1999) as Jude Law's good-hearted girlfriend.

She continued to appear in films, including 2000's Duets, 2001's Shallow Hal [Любовь зла], 2002's Possession [Одержимость], and 2003's Sylvia.

After dealing with the tragedy of her father's death in 2002, Gwyneth Paltrow found love with Coldplay23 frontman Chris Martin. The two wed in a secret ceremony in Southern California in 2003. Five months later, Gwyneth Paltrow welcomed her daughter, Apple, into the world. Her second child, Moses, was born in 2006.

Since becoming a mother, Gwyneth Paltrow has stayed out of the spotlight, taking up residence24 in London. While she cut down on the number of films she stars in, she did appear in the 2006 films Infamous [Дурная слава] and Running with Scissors and 2007's The Good Night. In 2008, Gwyneth Paltrow worked on two film projects – Two Lovers, a drama with Joaquin Phoenix, as well as Iron Man, costarring Robert Downey Jr. and Terrence Howard.

www.askmen.com



1 coveted – желанный
2 Tony Award – премия «Тони» (высшая награда за достижения в области театрального искусства в США)
3 summer stock theater – театр на летних гастролях
4 meant – предназначеный
5 major – (амер.) профилирующая дисциплина
6 aspiring – честолюбивый
7 to trade in – менять
8 full-time – занятый полный рабочий день
9 break – (зд.) прорыв
10 Kate Capshaw – американская актриса, известная по фильму "Индиана Джонс и Храм судьбы", с 1991 г. замужем за Стивеном Спилбергом
11 big-league – знаменитый
12 budding – многообещающий
13 spotlight – лучи славы
14 to opt for – предпочитать
15 period – (зд.) исторический
16 to round off – завершать
17 odd – странный
18 counterpart – коллега
19 impeccable – безупречный
20 to cross-dress – носить одежду представителей противоположного пола
21 engagement – помолвка
22 hiatus – передышка
23 Coldplay – популярная британская поп-рок группа
24 to take up residence – поселяться







Читать еще в этой рубрике:
Читать еще в этом номере: