Rachel Weisz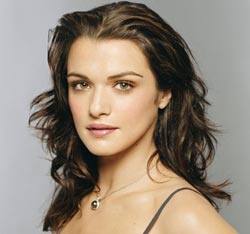 The new millennium certainly saw British actresses making an impact1 in Hollywood. Following in the footsteps of multiple-Oscar nominees Kate Winslet and Emily Watson came Kate Beckinsale, and, of course, that scourge2 of mummies everywhere, Rachel Weisz3. Though she broke through in action roles, Weisz has, from the very start of her acting career, exhibited4 a far wider emotional range than all of her peers5 and thoroughly6 deserved7 the Oscar she received for her portrayal of a passionate8, flighty9 and doomed10 activist in John Le Carre's The Constant Gardener.

Rachel Weisz was born on the 7th of March, 1971, in London. Both her parents are Jewish and were brought to England before WW211 to escape the Holocaust12, starting their new lives with nothing. Father George, from Hungary, became an inventor, most notably of medical devices. Mother Edith, from Vienna, became a psychoanalyst. Rachel also has a younger sister.

Rachel – perhaps to gain attention, perhaps to give her parents something to unite over – became rebellious13, passing through a series of schools due14 to her "disruptive15 behaviour". At 13, her parents took her to a shrink16 to find the root of these outrages17. The shrink sent her a letter saying "Congratulations. You are doing very well at keeping your parents together". Nevertheless, by the time she was 15, they'd separated.

Before this, though, Rachel was already working. Edith was ambitious for her and, having wanted to act herself, pushed her daughter in that direction. So she got Rachel a job as a model.

By the age of 17, Rachel had decided she wanted to act, but her parents demanded that she finish her education first. She went up to Trinity Hall, Cambridge, to study English Literature.

At Cambridge, Rachel studied hard. And then there was Talking Tongues. This was the theatre group that really launched Rachel's career. They performed six or seven improvised pieces characterised by rapid dialogue and French-style clowning. It was a strange time for Rachel. Ater college, she'd been offered a place at drama school but, thinking she was too old, she'd decided to look for work. And now everything was turning out fine and dandy.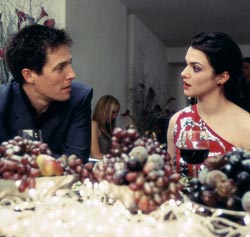 About a Boy (2002)

As for the TV parts, they had started in 1993 with Dirtysomething. Next came Scarlet And Black, a French romantic drama by Stendhal. Here Ewan18 McGregor played the ambitious Julian Sorel. After this came a small part in White Goods. Rachel is not much enamoured of these early roles. Her first big screen role was not much better, when she played a Junior Executive in Death Machine (1995), a kind of cross19 between Robocop and Alien.

But then things began to change, when Rachel was cast in Bernardo Bertolucci's Stealing Beauty (1996). It won Rachel a chance in Hollywood. And what an inauspicious20 debut it was. In Chain Reaction (1996), she played a scientist in a lab where they create a low-cost, non-polluting21 fuel source. The movie, intended to be a special-effects bonanza22, was a bit of a stinker23. It would be three years before Rachel tried another blockbuster.

Unperturbed24, Rachel moved on to something a tad25 classier – 1997's Swept From The Sea, based on a short story by Joseph Conrad. After this came Going All The Way and Bent.

Now Rachel took a string of strong British films.

After roles in The Land Girls and I Want You in 1998, Rachel Weisz leapt26 to blockbuster status and international fame with her lead female role in the hit of 1999, The Mummy. A scintillating27, hi-tech remake of Boris Karloff's original, this was a surprise mega-hit, the biggest word-of-mouth success since Die Hard. Rachel was superb.

The Mummy was silly and trite28, but it was also the best buccaneering29 action flick30 since Indiana Jones And The Temple Of Doom. Costing $76 million, it passed $100 million in the US in just 17 days.

Now she was a star. Hollywood was beckoning31. But Rachel had never really wanted to be a star. Instead, she returned to her first love, the theatre, starring in Tennessee Williams' Suddenly Last Summer. Again, Rachel was excellent.

She continued her avoidance32 of Hollywood with Sunshine (1999), an epic which took her back to her dad's roots by covering three generations of Hungarian Jews.

After starring in Beautiful Creatures in 2000, Rachel Weisz rang in the New Year by co-starring with Joseph Fiennes and Jude Law in the WWII Battle of Stalingrad film, Enemy at the Gates.

But Hollywood will not often be denied, and Rachel returned, as did The Mummy. Really, The Mummy Returns (2001) was not a patch33 on the original. The plot34 was thin35 and confused36, the special effects were over-ambitious. Still37, it broke box-office records.

Rachel was next seen in About a Boy (2002) with Hugh Grant and Toni Collette, The Shape of Things (2003), Confidence (2003), Runaway Jury (2003) with Dustin Hoffman, Envy (2004) with Ben Stiller and Jack Black, and Constantine (2005) with Keanu Reeves.

In 2005, Rachel was also seen in The Constant Gardener where she played a hot-headed activist opposite Ralph Fiennes, winning a Golden Globe and an Oscar as Best Supporting Actress, and in 2006, The Fountain with Hugh Jackman, Ellen Burstyn and Mark Margolis. And she tried her hand at a romantic comedy alongside Jude Law, Norah Jones, and Natalie Portman in My Blueberry Nights (2007).

It was said that Rachel turned down38 $3 million for The Mummy 3. She reportedly39 said, "I'm not a celebrity, I'm an actress". And so will she remain. Rachel Weisz has said that she would like to possess Katharine Hepburn's "flair40 for comedy", Batte Davis's "self-dramatising" and Elizabeth Taylor's "burning sensuality41". It cannot be denied that she's well on the way.

www.askmen.com; www.tiscali.co.uk



1 to make an impact – оказывать влияние
2 scourge – бич, бедствие
3 Weisz [vais]
4 to exhibit – выказывать, проявлять
5 peer – (зд.) коллега
6 thoroughly – вполне
7 to deserve – заслуживать
8 passionate – страстный
9 flighty – взбалмошный
10 doomed – обречённый
11 WW2 – /World War 2/ Вторая мировая война
12 Holocaust – холокост (массовое уничтожение евреев фашистами)
13 rebellious – непокорный
14 due – обусловленный
15 disruptive – подрывающий
16 shrink – (разг.) психиатр
17 outrage – грубое нарушение
18 Ewan
19 cross – гибрид
20 inauspicious – неблагоприятный
21 non-polluting – не загрязняющий окружающую среду
22 bonanza – удачное предприятие, «золотое дно»
23 stinker – барахло
24 unperturbed – невозмутимый
25 a tad – скорее
26 to leap – приниматься за
27 scintillating – забавный
28 trite – банальный
29 buccaneering – приключенческий
30 flick – (разг.) кинофильм
31 to beckon – подзывать
32 avoidance – уклонение
33 patch – (зд.) обновление
34 plot – сюжет
35 thin – слабый
36 confused – сбивчивый
37 still – (зд.) тем не менее
38 to turn down – отвергать
39 reportedly – по сообщениям
40 flair – чутьё
41 sensuality – чувственность







Читать еще в этой рубрике:
Читать еще в этом номере: