Angelina Jolie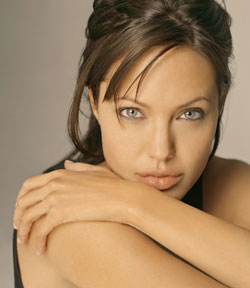 Angelina Jolie has starred in thrillers like The Bone Collector (1999) and Taking Lives (2004), as well as blockbusters such as Gone in Sixty Seconds (2000), Lara Croft: Tomb Raider (2001), Mr. & Mrs. Smith (2005), A Mighty Heart (2007), and Wanted (2008). She's also famous for her well-documented1 relationships to Billy Bob Thornton and Brad Pitt. Unfortunately, Angelina Jolie's highly publicized2 antics3 attracted more attention than her movie roles for many years.

Angelina Jolie Voight was born on June 4, 1975, to Oscar-winning actor Jon Voight and actress Marcheline Bertrand. At age 11, four years after making her film debut opposite her father in Lookin' to Get Out /В поисках выхода/, Angelina Jolie began studying acting at the Lee Strasberg Theatre Institute.

Although her dream as a child was actually to become a funeral director4, 16-year-old Angelina Jolie worked as a professional model in London, New York and Los Angeles. Musical groups and singers such as the Rolling Stones, Lemonheads, Meatloaf, and Lenny Kravitz cast her in their music videos, and even her brother James Haven Voight directed her in his student films for the University of Southern California School of Cinema.

Wishing to get even closer to pursuing an acting career, Jolie studied at L.A.'s MET Theatre Company, which also counts Ed Harris and Holly Hunter among its alumni5.

Angelina Jolie's first foray6 into film was of a sci-fi7 nature, with a supporting role8 in 1993's Cyborg 2, which didn't even make it to the big screen, and a lead role in Hackers (1995) where she met her future ex-husband, British actor Jonny Lee Miller of Trainspotting /На игле/ fame. They were separated within the year and filed for divorce9 in 1999.

Angelina Jolie's career as an actress, however, was flying high. She received critical acclaim10 for Without Evidence /Без улик/ (1995) in which she portrayed a drug-addicted teen, as well as for her roles as a rebellious11 teen known as Legs in Foxfire / Ложный огонь/ (1996) and as an Italian girl in love with the son of her family's rival in Love Is All There Is /Итальянские любовники/ (1996).

In 1997, she had a supporting role in the box office12 bomb Playing God /Изображая Бога/, starring David Duchovny and Timothy Hutton.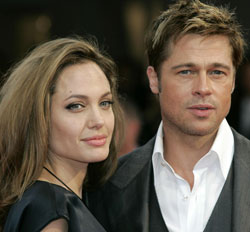 Angelina Jolie's television roles were what gained her the ultimate respect of critics. She was honored with a 1997 Best Supporting Actress Golden Globe Award and an Emmy nomination for her role as Cornelia Wallace in the TV movie George Wallace, costarring Gary Sinise. But the best was yet to come for Angelina Jolie.

She won her second Golden Globe for her role as model Gia Carangi in HBO's biopic13 Gia. Her intense14 portrayal of the drug-addicted model who was diagnosed with AIDS was highly deserving15 of the Best Actress Golden Globe and Emmy nomination.

On the big screen, Angelina Jolie was well-received by audiences for her role in 1998's Playing By Heart /Превратности любви/ with Sean Connery, Gillian Anderson and Ryan Phillippe. She also played Billy Bob Thornton's seductive16 wife in 1999's Pushing Tin /Управляя полетами/ and starred opposite big-leaguer17 Denzel Washington in the thriller The Bone Collector /Власть страха/ later that year.

However, it was her supporting role in 1999's Girl, Interrupted / Прерванная жизнь/ that showed audiences her dramatic skills, garnering her a Golden Globe and an Oscar for Best Supporting Actress. Angelina Jolie created controversy when she showed up at the Oscars with her brother James and kissed him as though he was her boyfriend.

In 2000, Angelina Jolie eloped18 with her Pushing Tin costar Billy Bob Thornton, but after they adopted a Cambodian boy named Maddox Chivan Thornton Jolie in 2002, their marriage fell apart and they filed for divorce. While it lasted, their marriage was the subject of much tabloid fodder19; the eccentric couple carried vials20 of each other's blood around their necks and were prone to public displays of affection.

In 2001, Angelina Jolie was appointed Goodwill Ambassador21 for the United Nations High Commissioner for Refugees22.

During that time, Angelina Jolie also starred in a slew23 of films, including Gone in Sixty Seconds (2000) with Nicolas Cage, Lara Croft: Tomb Raider (2001), for which Angelina is proud to say she did her own stunts24, Original Sin /Соблазн/ (2001) with Antonio Banderas, Life Or Something Like It (2002), Lara Croft Tomb Raider: The Cradle of Life (2003), and Beyond Borders /За гранью/ (2003).

In 2004, Angelina Jolie was busy starring in Taking Lives, Sky Captain and the World of Tomorrow, CGI25 animated comedy Shark Tale /Подводная братва/, and as Olympias in Oliver Stone's Alexander.

After Angelina Jolie starred alongside Brad Pitt in the romantic comedy Mr. & Mrs. Smith (2005), rumors began circulating that the two were an item26, even though Brad was in the process of separating from his wife, Jennifer Aniston.

Although the pair denied the rumors, pictures of them playing with little Maddox on the beach in Kenya emerged in April 2005, and several more tabloid photos in the months that followed confirmed they were an item.

On July 6, 2005, Angelina Jolie adopted her second child, a 6-month-old girl named Zahara Marley from Ethiopia. Months later, it was revealed that Brad and Angelina had made the decision to adopt Zahara together. Just eight days later, Brad's request to legally adopt Maddox and Zahara went through, and their last names were changed to Jolie-Pitt.

After much media attention, on May 27, 2006, Angelina gave birth to Brad Pitt's child, a girl named Shiloh Nouvel Jolie-Pitt, in Namibia.

Among all the action in her personal life, Angelina Jolie amazingly managed to27 get some work done. In 2006, she appeared in the Robert De Niro-directed The Good Shepherd / Ложное искушение/.

In March 2007, Angelina Jolie adopted a 3-year-old boy from Vietnam, Pax Thien Jolie-Pitt, who was born on November 29, 2003, and was abandoned at birth at a local hospital. Angelina named him Pax, which was suggested by her mother before she passed away.The year 2007 was another jam-packed28 year for this busy mom. She appeared in A Mighty Heart /Её сердце/ as well as did voice work alongside Anthony Hopkins in Beowulf. She was also named one of the Entertainers Of The Year by Entertainment Weekly.

Angelina Jolie "unofficially" announced she was pregnant29 by wearing a form-fitting30 dress at the 2008 Independent Spirit Awards, indirectly confirming the rumors circulating that she was with child31. In July she gave birth to twins, a boy and a girl.

That year, Angelina Jolie was involved in several film projects, including Wanted /Особо опасен!/ starring Morgan Freeman and James McAvoy, Kung Fu Panda and Changeling /Подмена/.

Source: www.askmen.com



1 well-documented – подтверждённый документальными доказательствами
2 to publicize – оглашать
3 antics – нелепые выходки
4 funeral director – распорядитель похорон
5 alumni – выпускники
6 foray – вторжение
7 sci-fi – /science fiction/ научная фантастика
8 supporting role – роль второго плана
9 to file for divorce – подавать на развод
10 critical acclaim – одобрение критиков
11 rebellious – бунтарский
12 box office – касса (в кинотеатре); сборы
13 biopic – фильм-биография
14 intense – глубокий, сильный
15 deserving – заслуживающий
16 seductive – обольстительный
17 big-leaguer – представитель большой лиги, элиты
18 to elope – сбежать (с возлюбленным)
19 tabloid fodder – обильный материал для бульварной прессы
20 vial – пузырёк
21 Goodwill Ambassador – посол доброй воли
22 United Nations High Commissioner for Refugees – верховный комиссар ООН по проблемам беженцев
23 slew – (амер. разг.) множество
24 stunt – трюк
25 CGI – /computer-generated imagery/компьютерная графика/
26 item – (разг.) парочка влюблённых
27 to manage to – ухитриться
28 jam-packed – битком забитый
29 pregnant – беременная
30 form-fitting – облегающий (об одежде)
31 with child – беременная







Читать еще в этой рубрике:
Читать еще в этом номере: