Lost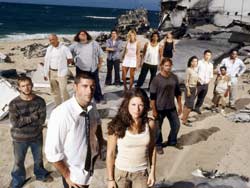 by Anna Shchetinina (Samara)



Have you ever dreamt of finding yourself on a deserted island with golden sand, deep blue sea, evergreen1 forests and exotic fruit? I think that everyone has imagined such a paradise at least once. And whom would take with you there? Your best friend? Your lovely puppy? Well, and what do you think of a company of a former detainee2, a young mother-to-be3, a couple from Korea (who don't seem to understand your language at all), a rock musician addicted4 to heroin, an Iraqi executioner5…? By the way, you have just fallen with the debris6 of your airplane on the island you have been dreaming of. Hey, don't be upset, you will be safe soon – we are in the 21st century, stuffed7 with mobile phones, radar systems, transmitters8 and wrapped up with Internet cobweb. So relax, say your prayers to God for saving your life and just wait for rescue workers in their helicopters…Hmm, it's been a long time but they're not here yet, may be you should start getting adapt yourself to your new life? No one may be looking for you considering that you are LOST…

Russian spectators have just watched the 2nd season of a TV series "Lost" (which is known to us under the title "To Stay Alive") meanwhile the 3d season has already started in the USA. The idea of the picture is not something new or extraordinary – many writers placed their characters on the deserted island to show how the individual9 would change under the circumstances. Everyone knows the story of Robinson Crusoe who proved to be strong enough not to go mad10 during 28 years of solitude. But the world literature has another example of the situation – William Golding's "The Lord of the Flies" in which a group of British schoolboys find themselves on the island after the plane crash and gradually begin losing their human face. Characters of Lost are adults (except Walt – a boy of 11) of almost all the races, believes and occupations. The profession of a doctor seems to be the most vital11 on the island and no wonder that almost from the first minutes after the crash people on the island choose doctor Jack as their unofficial leader. The part of the doctor who carries himself with strong charisma12 and powerful presence is played by Matthew Fox. He was born in 1966 in Wyoming, where his family raised horses and barley. Fox studied economics at Columbia University, but instead of becoming a successful Wall Street broker, Fox was swaying13 to modeling, which led to some commercial spots and has been sold on acting ever since.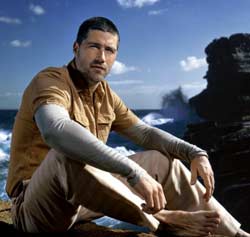 Matthew Fox

Evangeline Lilly's combination of irresistible, playful charm and natural talent is earning her a reputation as one of the promising14 young actresses in Hollywood. She caught her acting bug15 when she received her first speaking role as the unpredictable16 Kate in a TV series LOST.

Lilly founded and ran a world development and human rights committee at her university. She spent three weeks living under a grass hut17 in the jungles of the Phillippines with a missionary group, and has been a volunteer for children's projects since the age of 14. Fluent in French, Lilly loves reading, writing, painting, music, nature, staying active, learning, tea and travel.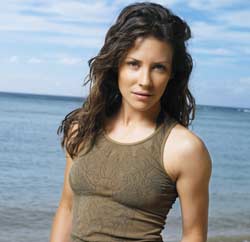 Evangeline Lilly

The most mysterious person on the island is of no doubt John Locke. He seems to be Mr. Know-All and is believed to have some supernatural power. Terry O'Quinn who portrays this character is quite a famous actor mostly playing "bad guys". He rose to prominence as the outwardly18 gentle but actually maniacal master of the house in the picture "The Stepfather". On television O'Quinn had starring roles in "Millennium" and "The X-Files".

London-born Naveen Andrews (who plays an Iraqi vet19 Sayd) auditioned for drama school and was accepted at London's Guildhall School of Music and Drama. In 1993 Andrews was nominated by the Evening Standard Drama as Most Promising Newcomer for his role in "Wild West". His big break occurred when he was cast opposite Juliette Binoche, Ralph Fiennes and Kristin Scott Thomas in the Oscar-winning film "The English Patient". He will soon be seen in the film "Provoked".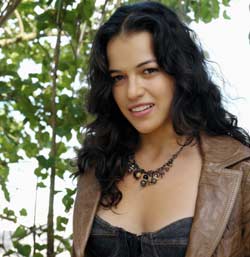 Michelle Rodriguez

Andrews enjoys playing the guitar, composing and reading. He resides in Los Angeles with his girlfriend Barbara Hershey. He has one son, Jaisal.

All the people on the island seem to have their skeletons in the cupboards. So does Anna-Lucia – a former police officer who follows the principle "an eye for an eye and a tooth for a tooth" but during the flashbacks in the picture we see her as a victim of her own mercy. Michelle Rodriguez first came to the industry's attention with her award-winning performance in the critically acclaimed feature "Girlfight", for which she won the 2001 Independent Spirit Award for Best Debut Performance and the 2001 National Board of Review Award for Breakout Performance of the Year. Rodriguez recently completed a starring role in "The Breed", produced by Wes Craven, and her voice will soon be heard in the animated film "Sian Ka'an", alongside Salma Hayek and Alfred Molina. Additional film credits include "Resident Evil", and "The Fast and the Furious".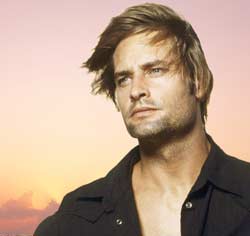 Josh Holloway

All the female spectators sigh deeply at the sight of the most handsome scoundrel20 Sawyer. No wonder, Josh Holloway knows well how to charm people with his smile – after one year at the University of Georgia, he embarked21 on a successful modeling career which took him all over Europe and North America. Holloway was born in Northern California, from an early age he discovered a passion and love for films. His pursuit22 of acting brought him to Los Angeles, where he soon landed a role in the comedy "Doctor Benny". He followed that up with lead roles in the independent films "Mi Amigo", "Moving August" and "Cold Heart" in which he starred opposite Nastassja Kinski.

Holloway's hobbies include boating, sailing, snowboarding, martial arts23, motor cross and playing guitar. He currently resides in Los Angeles.

We are sure that all the characters in "Lost" have their devoted fans who are looking forward to watching the forthcoming24 3d season. Actually, the most cute25 about this TV series is that its creators don't know themselves yet what will happen in the end – are the people going to be saved from the island that seems to test their abilities or will they stay there forever, lonely, forgotten, lost…


1 evergreen – вечнозеленый
2 detainee – заключённый
3 mother-to-be – беременная женщина
4 addicted – пристрастившийся
5 executioner – палач
6 debris – обломки
7 stuffed – заполненный
8 transmitter – (радио)передатчик
9 individual – личность
10 to go mad – сойти с ума
11 vital – (зд.) энергичный
12 charisma – харизма (умение стать лидером, снискать популярность в массах)
13 to sway – склонять
14 promising – подающий надежды
15 bug – (разг.) вирус
16 unpredictable – непредсказуемый
17 hut – шалаш
18 outwardly – внешне
19 vet – ветеран
20 scoundrel – негодяй
21 to embark – (зд.) начинать
22 pursuit – (зд.) стремление
23 martial arts – боевые искусства
24 forthcoming – приближающийся
25 cute – притягательный







Читать еще в этой рубрике:
Читать еще в этом номере: