Lucy Liu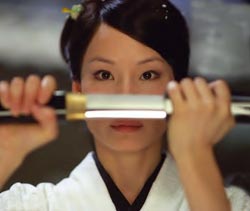 Lucy Liu was never catapulted to stardom; she had to work her way up from the bottom. Since she had to deal with typecasting1 and degrading2 roles to get where she is today, the fact that she takes her career in stride3 with a genuine4 smile says a lot about her personality.
Despite her enormous success on the television and the big screen, she doesn't want to be regarded5 as an ambassador for Asian Americans in the entertainment industry.

It's in the Italian neighborhood of Queens, New York that Lucy Alexis Liu was born on December 2, 1968. Her childhood in Jackson Heights6 with her brother and sister resembled that of many immigrant families. Her father worked as a civil engineer and her mother as a biochemist in Taiwan, but they sacrificed7 to come to the United States.

Liu has said that she grew up in a "diverse" neighborhood; her family spoke Mandarin at home and she did not learn English until she was five years old, which caused Lucy to have an identity crisis8 during her days at Manhattan's famous Stuyvesant High School. Still, she learned to accept herself and graduated in 1986. After the summer, she enrolled in New York University. In spite of the school being a very distinguished9 establishment of higher learning, she found the place to be gloomy10 and cynical. As a result, she only stayed for a year. For her sophomore11 year, Lucy went to Ann Arbor and joined the University of Michigan, where she studied singing, acting and dancing. She ultimately12 graduated with a degree in Asian languages and cultures.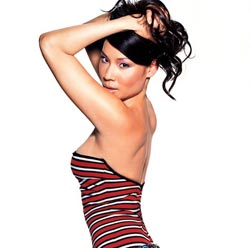 Liu began acting in 1989, after auditioning for a role in Andre Gregory's adaptation of Alice in Wonderland during her senior13 year. Liu was cast in the lead role, although she had originally only tried out for a supporting part. This gave her a taste of what it's like to be a professional actress and she quickly wanted more.

She moved to Los Angeles, where she supported herself by being a waitress. Before long, she landed a guest-starring14 part on Beverly Hills, 90210. Over the years, she made other guest appearances in shows such as L.A. Law, Coach, Home Improvement, The X Files, High Incident, and NYPD Blue.

In 1993, Lucy's collection of multimedia art pieces was showcased15 at the Cast Iron Gallery in SoHo16. Because of that, she was awarded a grant to study art in China. Upon her return, the chronicles of her journey (photography, paints, ceramics, and collages) were exhibited in a gallery in Venice, California.

Along with her early TV career, Liu landed17 roles in small movies. She was in the Hong Kong feature Rhythm of Destiny (1992), the early Darren Aronofsky film Protozoa (1993), Bang (1995), and she had a small role in Jerry Maguire (1996) as one of Jerry's former girlfriends.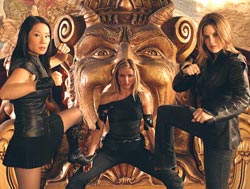 Charlie's Angels

In 1996, Liu was also cast as a regular18 in the short-lived CBS19 sitcom20 Pearl, with Rhea Perlman and Malcolm McDowell. This secured21 her position in Hollywood and, in 1997, she was in five movies: Gridlock'd, City of Industry, Guy, Flypaper, and television's Riot. After a small role in Mario Van Peebles' Love Kills (1998), Lucy was introduced to mainstream America. She auditioned for the role of Nelle Porter on Ally McBeal, but Portia de Rossi got it instead. Nevertheless, writer-producer David E. Kelley noticed Lucy's spunk22 and promised to write a character especially for her. The character was Ling Woo, a fiery23 lawyer who never took no for an answer, and she was introduced in a September 1998 episode of Ally McBeal. Lucy was so riveting24 that she was invited to join the regular cast. She was nominated for an Emmy (as Outstanding Supporting Actress in a Comedy Series) in 1999 and stayed on until the show's demise25 in 2002.

With her stock rising26, Lucy was in demand27 and made several motion pictures. In 1999, she played in Payback with Mel Gibson, and appeared in Clint Eastwood's True Crime, Molly, The Mating Habits of the Earthbound Human (with Carmen Electra), and the sports comedy Play It to the Bone, starring Antonio Banderas and Woody Harrelson.

Lucy's next project was the action comedy Shanghai Noon (2000) with Jackie Chan and Owen Wilson.

Shortly thereafter, she appeared in another blockbuster, the star-studded28 Charlie's Angels (2000), in which she played Alex Munday, one of the female leads alongside established29 Hollywood stars Cameron Diaz and Drew Barrymore. The film became a hit, earning more than $125 million in the U.S., and a worldwide total of more than $258 million.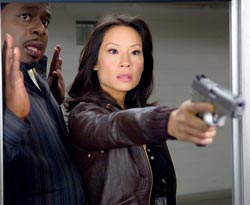 Code Name: The Cleaner (2007)

Following the independent Mike Figgis' film Hotel (2001), Liu teamed up with Antonio Banderas once more and starred as a government agent in Ballistic: Ecks vs. Sever (2002), a critical and box-office failure. After Cypher (2002) and a brief appearance in the Oscar-winning Chicago (2002), she joined the "Angels" again for Charlie's Angels: Full Throttle (2003). The sequel opened30 to poor reviews but was a box-office hit again.

After that, she decided to slow down because her schedule was too hectic31. Consequently, Lucy kept busy with only one movie – although it's since been partitioned in two – Quentin Tarantino's Kill Bill: Vol.1 (2003) and Kill Bill: Vol.2 (2004, in archived footage). Liu played O-Ren Ishii (Cottonmouth32) and she won an MTV Movie Award for "Best Movie Villain" for the part. In 2006, she played leading lady and love interest to Josh Hartnett in the popular crime thriller Lucky Number Slevin. In 3 Needles (2006), she plays Jin Ping, an HIV-positive33 Chinese woman. Liu agreed to star in the film for lower than usual pay because she wanted to spread awareness about the way AIDS is improperly treated in China and Thailand.

Liu's other recent roles include Code Name: The Cleaner (2007), an action comedy, and Rise: Blood Hunter (2007), a supernatural thriller in which Liu plays an undead34 reporter; Watching the Detectives, an independent romantic comedy co-starring Cillian Murphy, and Kung Fu Panda, an animated film scheduled for 2008 in which she will voice a snake.


1 typecasting – по принципу типажности, однотипный (о роли)
2 degrading – унизительный
3 to take in stride – легко переносить
4 genuine – искренний
5 to be regarded – рассматриваться, расцениваться
6 Jackson Heights – северо-западная часть района Куинс
7 to sacrifice – жертвовать
8 identity crisis – (психол.) кризис самоопределения
9 distinguished – изысканный
10 gloomy – удручающий
11 sophomore – (зд.) второй
12 ultimately – в конечном счете
13 senior – (амер.) выпускной, последний
14 guest-starring – (в телесериале) приглашенный, разовый (в отличие от regular)
15 to showcase – выставлять
16 SoHo – Сохо (район г. Нью-Йорка, примерно 20 кварталов в Южном Манхэттене, где бывшие промышленные склады превращены в жилые дома и студии художников.)
17 to land – добиться, получить
18 regular – (в телесериале) постоянная роль (в отличие от guest)
19 CBS – /Columbia Broadcasting System/ Си-Би-Эс (одна из трех крупнейших радиотелевещательных компаний США)
20 sitcom – комедийный телесериал
21 to secure – обеспечивать, закреплять
22 spunk – воодушевление
23 fiery – пылкий
24 riveting – захватывающий
25 demise – прекращение
26 stock rising – растущие котировки
27 in demand – востребованный
28 star-studded – с большим числом знаменитостей
29 established – упрочившийся, признанный
30 to open – начинать показ
31 hectic – лихорадочный
32 cottonmouth – водяной щитомордник (смертельно ядовитая змея)
33 HIV-positive – ВИЧ-инфицированный
34 undead – восставший из мертвых







Читать еще в этой рубрике:
Читать еще в этом номере: