Lena Headey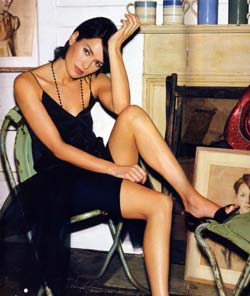 The 33-year-old actress has more than 40 film and television credits to her name. It is her on-screen charm that has captivated numerous audiences and has allowed her to win role after role throughout her career. Having worked consistently from the age of 17, when she was cast, while still at school, to star opposite Jeremy Irons in the film Waterland, Lena says her successes has been a string of happy accidents. Lacking the fearsome ambition of such fellow Brits as Catherine Zeta-Jones or Kate Beckinsale, she has nonetheless played a string of leading roles over the years.

Since her feature debut in a supporting role as a schoolgirl in Waterland (1992), Yorkshire lass1 Lena Headey (born October 3, 1973 in Bermuda) worked steadily in both British and American films. On the heels of Waterland, she portrayed a quiet young woman who has no idea why she consented to marriage with a absolutely unbearable2 man twice her age in The Summer House (1993), which aired on British TV before its theatrical release. Lena also landed a small role as the upstairs maid3 in the period drama, The Remains of the Day (1993). Answering Hollywood's call, she landed the role of the virginal4 heroine of Disney's live-action version of Rudyard Kipling's, The Jungle Book (1994) for which she has the most affection.

It was on set that she met the actor Jason Flemyng, most famous for his role in Lock, Stock And Two Smoking Barrels, and the pair had a nine-year relationship. The actress also made her American TV debut that year in the ABC movie, MacGyver: Trail to Doomsday, based on the long-running adventure series. The blush5 was definitely off the ingénue6 the following year, with her British TV roles as an ecstasy-fueled raver in Loved Up and a troubled prostitute in the miniseries Band of Gold.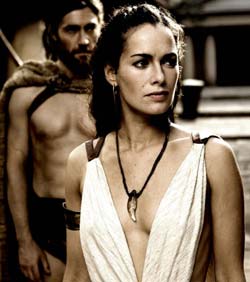 300 (2007)

The underutilized7 Headey brought a spark of humanity to Antonia Bird's Face (1997), starring as the girlfriend trying to persuade8 her boyfriend (Robert Carlyle) to abandon9 his life of crime. In the flashback sequences10 of the period drama, Mrs. Dalloway (1997), she added a buoyancy11 and verve12 as the daring13 Sally Seton who runs naked through the Edwardian household. Headey lent her beauty and charm to the role of the bewitching14 girl whom two guys want to marry in the disappointing15 time-travel romance Twice Upon Yesterday/If Only (1998). She was perfectly cast as Guinevere in the swashbuckling16 NBC miniseries Merlin (1998), which rejoined her with Sam Neill – who had portrayed her father in Jungle Book – here cast as the legendary sorcerer. After enjoying a pivotal17 role as Liv Tyler's sister Olga in Martha Fiennes' feature directorial debut, Onegin (1999), Headey sank her teeth18 into the role of a bitchy19 college student in the dark comedy Gossip (2000) – the first film of a two-picture deal with Warner Bros. She additionally starred in the festival-screened Aberdeen (2000), earning praise for her turn as a lawyer who must reconnect with her estranged20 parents, an alcoholic father and a domineering21 mother dying of cancer.

Her resume expanded over the next several years, with key supporting appearances in such projects as Neil LaBute's romantic mystery Possession (2002); the acclaimed Winston Churchill biopic, The Gathering Storm (TV, 2002), the adaptation of author Patricia Highsmith's lesser known Thomas Ripley tale, Ripley's Game (2002); and other lesser endeavours22. Although she was not director Terry Gilliam's initial choice to play Anjelika – the tough-as-nails23 love interest of the Bavarian fairy tale tellers in The Brothers Grimm (2005) – producer Harvey Weinstein insisted that she be cast over Gilliam's choice, Samantha Morton. The actress held her own opposite Matt Damon and Heath Ledger in the otherwise disappointing film.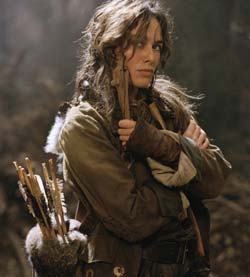 The Brothers Grimm (2005)

For the sci-fi horror thriller, The Cave (2005), she played a biologist led by explorers into an elaborate cave system beneath the newly discovered ruins of a 13th century Romanian abbey. But instead of discovering the new ecosystem she and her fellow biologists had hoped to find, the group stumbles24 upon a new species of unique and unwelcoming beings formed by the isolated environment. A clichéd storyline, unknown cast, and lack of aggressive advertising ensured a $6 million opening weekend.

Headey rebounded25, however, with her next film, the visually stunning adaptation of Frank Miller's graphic novel, 300 (2007), a loose telling of the famed Battle of Thermopylae, where 300 Spartan warriors inflicted heavy damage to a massive Persian army led by Xerxes I. The actress, who was a stand-out for most film critics, regally26 portrayed Queen Gorgo, wife of Spartan King Leonidas, whose valour and sacrifice27 inspired all of Greece to unite against the Persian army.

Although moving to Los Angeles would be a good step, so far Lena has resisted. "I like London," she said. However, now that 300 has already exceeded all expectations at the box office, she may have to change her plans. She has already filmed a U.S. television pilot28, The Sarah Connor Chronicles, a spin-off29 from the Terminator films. The show takes place after the events of Terminator 2: Judgement Day, and years before Terminator 3.


1 lass – (брит.) девушка
2 unbearable – невыносимый
3 maid – горничная
4 virginal – невинный, девственный
5 blush – краска стыда
6 ingénue – (фр. театр.) инженю (актёрское амплуа – роли наивных, молодых девушек)
7 underutilized – с низким коэффициентом использования
8 to persuade – убеждать
9 to abandon – оставлять
10 flashback sequence – ретроспективный (относящихся к более ранним событиям) эпизод
11 buoyancy – жизнерадостность
12 verve – энергия, живость
13 daring – отважный
14 bewitching – очаровательный
15 disappointing – разочаровывающий
16 swashbuckling – хулиганский
17 pivotal – центральный
18 to sink one's teeth – вкусить
19 bitchy – (разг.) злобный
20 estranged – раздельно проживающий
21 domineering – деспотический
22 endeavour – попытка
23 tough-as-nails – непокорный
24 to stumble upon – наткнуться
25 to rebound – приходить в себя
26 regally – царственно
28 sacrifice – жертва
29 pilot – пилотный (1-ый) выпуск
30 spin-off – (зд.) телесериал на основе популярного кинофильма







Читать еще в этой рубрике:
Читать еще в этом номере: